Here you can see Hipot Tester for testing the electrical insulation ability and electric strength. All Hipot Tester are perfectly suitable for a fast comfortable hipot testing in production and in the laboratory, for example for type approvals.
Hipot testers that are used in routine tests according to EN-norms (CEN, ENEC) have a voltage up to approx. 6 KV. Alternatively, hipot testers up to 150,000 VAC and 300,000 VDC, respectively, are offered. Hi Pot Tester of this category are extremely robustly designed and are preferably deployed in large testing areas and in the cable industry.
Technical Service
+49 421 277 9999
The standard accessory of the hipot ac testers includes high-voltage probes, testing pins for protective conductors, two-hand operations, set-up warning lamps and "high-voltage testing" warning signs. The High Voltage testers can be perfectly operated and read out by the stable running testing software – by default connected via USB, LAN, Can-Bus or RS232. An assembling set for the 19"-installation in testing systems is provided. The High Voltage Tester can be used for the testing of devices belonging to the safety classes I and II. The isolation of the current-carrying conductors and the clearance distance are examined.
The procedure differs between AC high-voltage testing and DC high-voltage testing. The advantage of DC high-pot tester is that no security measures have to be taken for currents up to 12 mA. The DC high-pot tester has the advantage that up to 12 mA no safety measures need to be taken. The economizing Hipot Testers are also available as electrical safety testers including testing of protective conductor, insulation, leakage current and functions.
Important information about high-voltage testers can be found here:
Items 1-25 of 178
View as
Page
You're currently reading page

1
Items 1-25 of 178
View as
Page
You're currently reading page

1
Sourcetronic Hipot Tester ST9201
In this video you will be introduced to the high voltage tester ST9201, whose functions and typhus.
How does an Hipot Tester works?
High-voltage tests are performed for appliances with protection classes I (with a PE protective conductor) and II (without a PE protective conductor). In the process they determine whether the insulation of the current-carrying conductor and the safe distance from the device casing meet the specifications.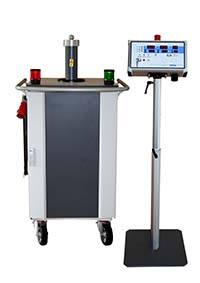 A high voltage test is considered "good" when no current flows. In an AC high-voltage test on a device under test with capacitive characteristics, however, a weak current will flow. Therefore, most test devices have adjustable settings. As a guide for the voltage during a high-voltage test, double the usual voltage of the DUT you are testing and add 1,000 V. For a 230-volt device, that is: 1000 V + 2 x 230 V = 1460 V (1500 V).A distinction is drawn between AC and DC high-voltage tests. The VDE (Association for Electrical, Electronic & Information Technologies) recommends the DC high-voltage test for production facilities. It is less risky and cannot damage the human heart. For job safety, the requirements of the professional association apply (to EN 50191). Additional workplace security is not needed during voltage testing with AC up to 3 mA or DC up to 12 mA. The DC high-voltage test, thus, has the added advantage that no extra precautions are required for tests of 12 mA or less.
Safety at work:
a) High-voltage tests with currents : |> 3 mA / AC or |> 12 mA / DC
Special high-voltage test room, or
Sealed-off area, warning sign, warning lights, test probes / test cage / two-handed operation.
b) High voltage tests with currents: class I
No safety precautions, or
Provisional precautions against "secondary accidents", e.g. twitches and lurches after an electrical shock.
High-voltage tests on specimens with suppression capacitors and Y-capacitors can be done with either AC or DC. The charge current measurement, as part of the DC high-voltage test, can also provide information about the built-in noise suppression capacitor.