ST2822 handheld lcr meter
The handheld LCR Meter ST2822 is available in 3 versions: 1 kHz, 10 kHz and 100 kHz. This portable LCR Meter device stands out with the simultaneous display of primary and secondary parameters as well as through its ease of use and extensive measuring capabilities. Besides the highly accurate measurement of inductance, capacity and resistance, this handheld LCR Meter also can determine impedance and phase angle as well as the capacitor loss factor, coil quality and ESR.
In addition to manual the portable LCR Meter also has an automatic range selection. Using the function keys various functions such as auto lcr function (fast SMD classification), remote control, zero point calibration, data hold, Mini-Max Comparator, sorting by tolerance, mean, measurement speed, frequency (100Hz, 120Hz, 1kHz, 10kHz, 100kHz ) and select L / C / R / Z / Angle / D / Q / ESR can be selected on the rlc meter. Via the USB port, the handheld LCR Meter can easily be remotely control from a PC, so that the portable LCR Meter can record data such as measurement trends on the computer (data logger).
The extremely low power consumption of this esr meter (stand-by: 2μA; Operating: 25mA) is achieved by the new highly integrated circuit layout. Power is supplied either via mains operation or efficiently, rechargeable batterie (ST2822C) which allow the mobile operation of the lcr meter for up to 16 hours. Knowing the ever increasing demands SMD measurements you can choose from two special 4-wire Kelvin test tweezers. You also have the choice between 3- and 5- terminal configurations for your rlc meter.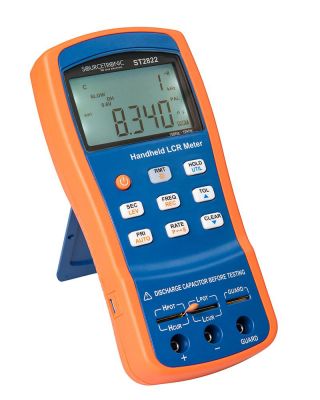 LCR Meter ST2822A
Frequencies: 100Hz - 10kHz
Basic accuracy: 0.25 %
Test parameters: L, C, R, Z / D, Q, θ, ESR
Backlight LCD-display
Interface: Mini-USB
Measuring time: 250ms
Comparator function
LCR Meter ST2822D
Frequencies: 100Hz - 10kHz
Basic accuracy: 0.1 %
Test parameters: L, C, R, Z / D, Q, θ, ESR, DCR
DCR Measuring Speed: 3meas/sec
Backlight LCD-display
Interface: Mini-USB
Measuring time: 250ms
Comparator function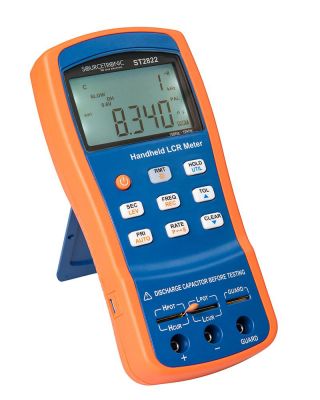 LCR Meter ST2822E
Frequencies: 100Hz - 100kHz
Basic accuracy: 0.1 %
Test parameters: L, C, R, Z / D, Q, θ, ESR, DCR
DCR Measuring Speed: 3meas/sec
Backlight LCD-display
Interface: Mini-USB
Measuring time: 250ms
Comparator function