Digital multimeters are generally used when a quick yet precise measurement of important parameters such as voltage, electricity, resistance and frequency is required. A desktop multimeter of the ST 19-series has the distinction of being easy to handle in various situations of daily usage.
These digital multimeters are equipped with a clear and neat front design, as well as a big display, which maintain a quick and effective usage. A digital benchtop multimeter covers, besides the standardized ways of measuring, a broad sphere of additional measured parameters, such as measurements of levels in dB. The microprocessor-controlled construction permits mutual scanning speed up till 1000 measurements a second. In order to achieve the aim of individualized handling, a Sourcetronic benchtop multimeter provides 10 individually configurable multimeter setups.
Each DMM device has a standardized USB and RS232C-interface, through which the recorded information is available for further processing. The optional GPIB-Bus system, through which a desktop multimeter can be connected to a professional setting of GPIB-devices, holds many further options. By making Sourcetronic DMM available, the user obtains a multifunctional tool for analyzing and editing measurements in almost all daily and common, as well as uncommon, situations.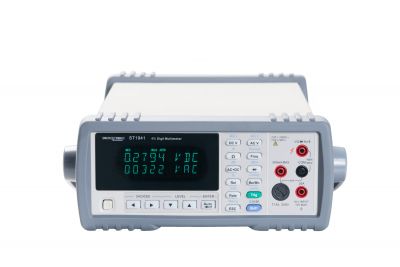 Digital Multimeter ST1941
4 1/2 digit display with 21.000-counts
750 V AC / 1000 V DC
Test accuracy up to 0.02% (DCV)

Bandwidth up to 100kHz
Multiple mathematics operation function: %, dB, dBm, REL
Interfaces: RS232 (SCPI supported)