Control Cabinet from Germany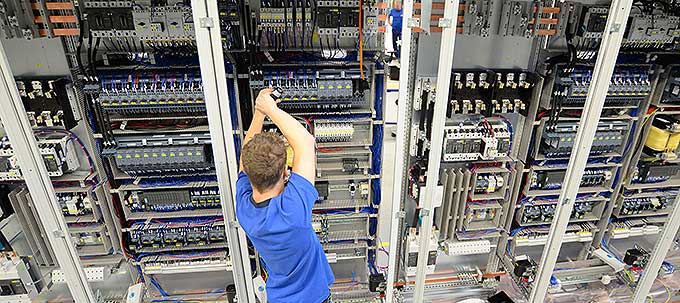 Cabinets from Sourcetronic
Powerful components require optimum peripherals. Sourcetronic provides the know-how to combine both. High-quality components, such as frequency inverters, built into a robust cabinet prevent downtime, reduce costs and increase productivity.
Technical Service
+49 421 277 9999
Areas
Due to a choice of numerous components which can be installed, the cabinets can be configured flexibly. Compact solutions are available for all industrial applications like mechanical and plant engineering. Our drive systems are designed for all performance classes. Furthermore, we offer special solutions. These are special solar inverters for photovoltaic or individually configurable pump controllers ready. The power spectrum includes:
Control cabinets with low voltage for 1000 Volt
Control- and intvertercabinets
Instrumentation and control engineering
Control Panels
Switchboards
Engeneering used for
Wate economy,
Food industry,
Cooling tower,
Ventilation and
Construction and husbandry.
The Control Cabinets form Sourcetronic are used for regulation of air conditioning, process and mixing technology, compressors and pumps control.
We provide our customers:
Fast delivery
Sourcetronic is additionally supplier of individual components. This means that there won't be long time delays in production because all components are always stock in the warehouse. Our qualified technicians contact you directly after ordering the construction of your individual control cabinet.
High quality
Even the best components can't help without correct installation and advice. Sourcetronic makes sure, that these conditions are complied. As a manufacturer and supplier, we set standards in the quality of each component. Our highly trained specialists are able to optimally integrate them together and generate the maximum benefit for you. Our cabinets are in accordance with the current standards, DIN EN ISO 9001: 2004: 2008 and DIN EN ISO 14001 standard.
Competent support
We not only build the ideal cabinet for you - we accompany you during its selection. The Sourcetronic experts analyze your circumstances and processes and can therefore advise you the optimal select of your cabinets. If the right cabinet for your needs is found, we start with the construction and the following delivery. We also support you with the installation and connection on site.
Your satisfaction is our goal!
Drive Technology Express Service
Frequency Inverter Quick Service
Installation, commissioning, trial operation
Instruction of the operating personnel
Identification of error causes
Reduction of subsequent and repeat faults
Maintenance, servicing and retrofitting of systems
Lifecycle management of drive technology
Around-the-clock service": 24/7 monitoring service of plants
Project planning and programming
Consulting and design drive technology
Project planning Electrical engineering
E-construction ePlan P8
Programming/visualisation (PLC/HMI/JAVA)
Monitoring, control and regulation systems
Sensor consulting
Processing of tenders with focus on drive technology, automation, pump controls
Determination of energy saving potentials
Planning, construction, delivery and installation of control systems
Installation and Commissioning
Installation & Commissioning
Configuration and parameterisation
Switch cabinet construction
Electrification of entire construction sites
Frequency converter exchange
Standard-compliant documentation
Instruction of the operating personnel