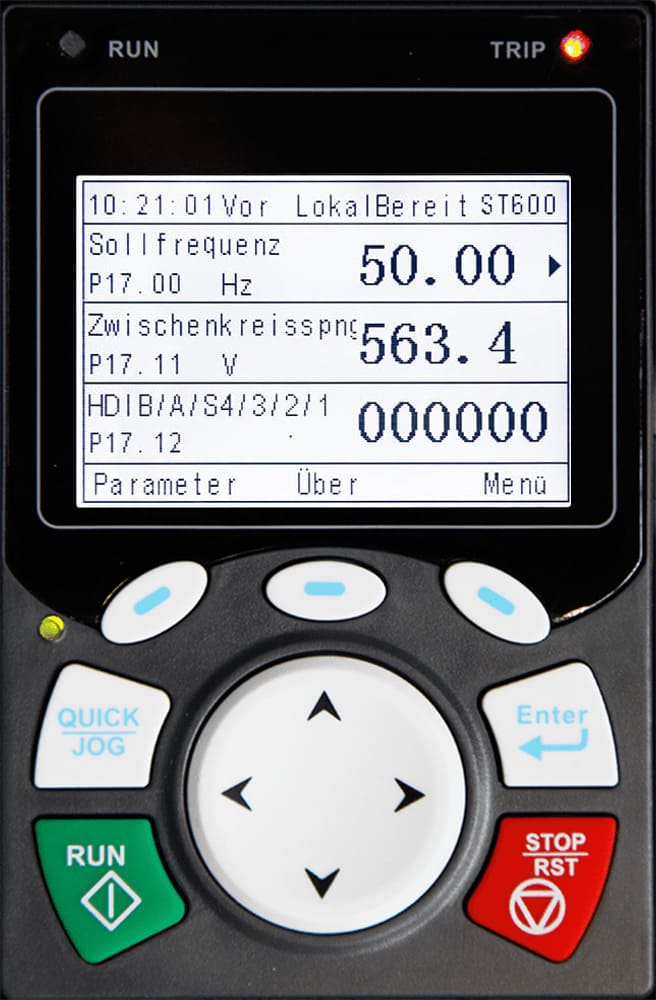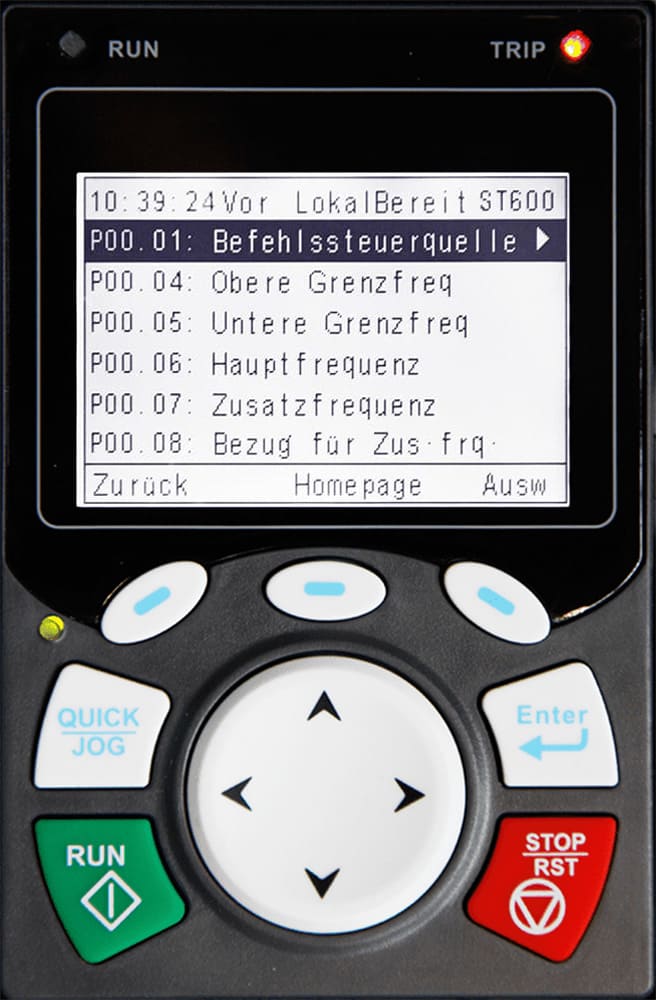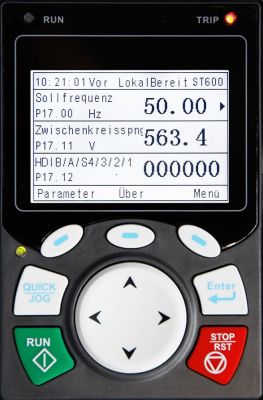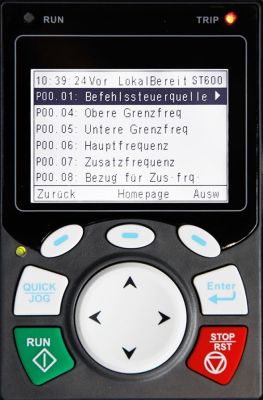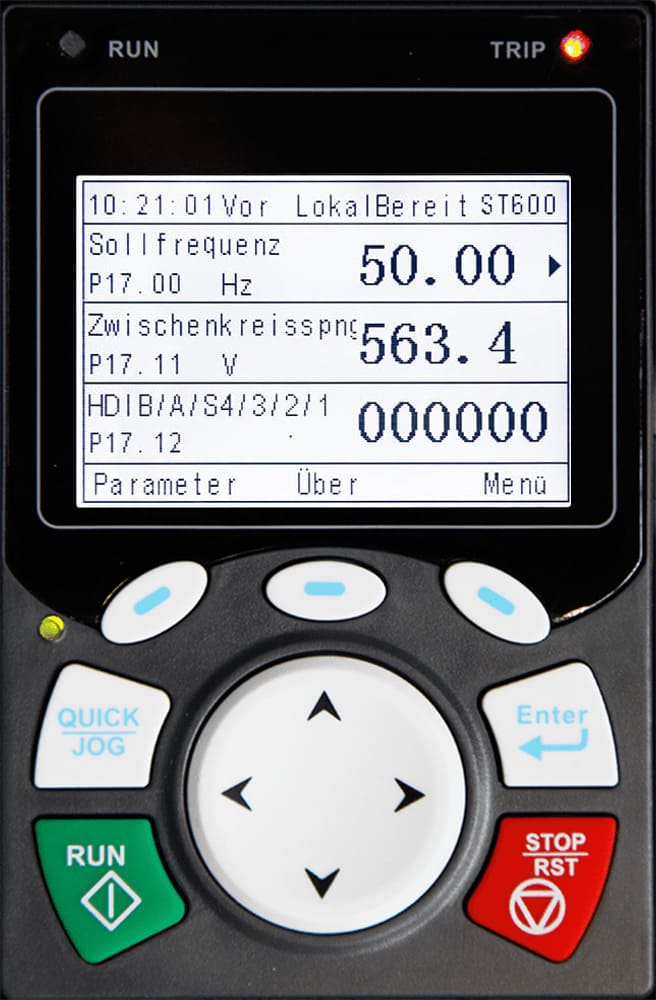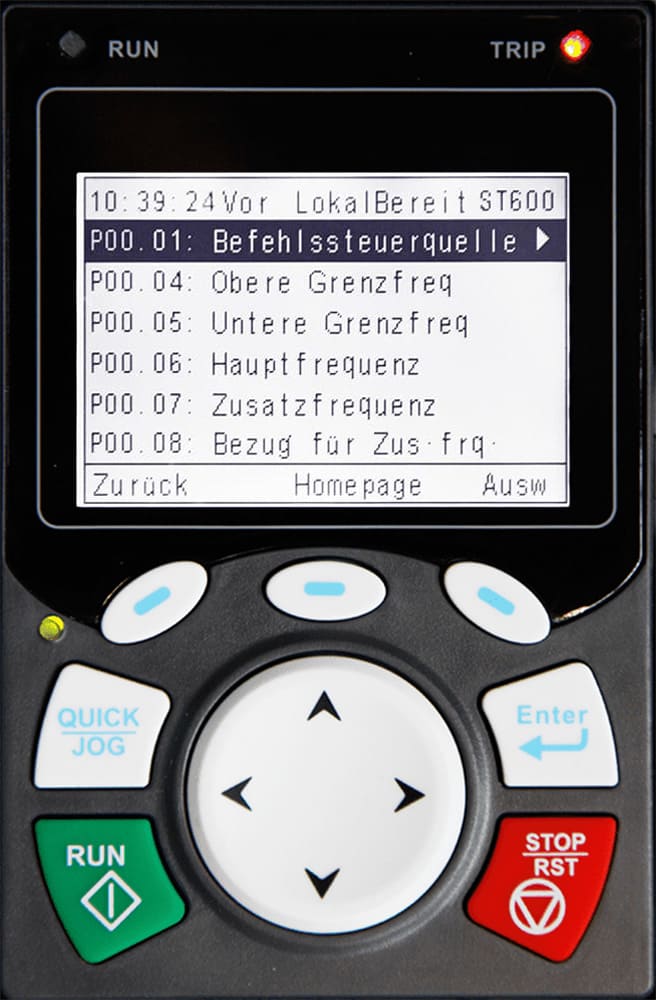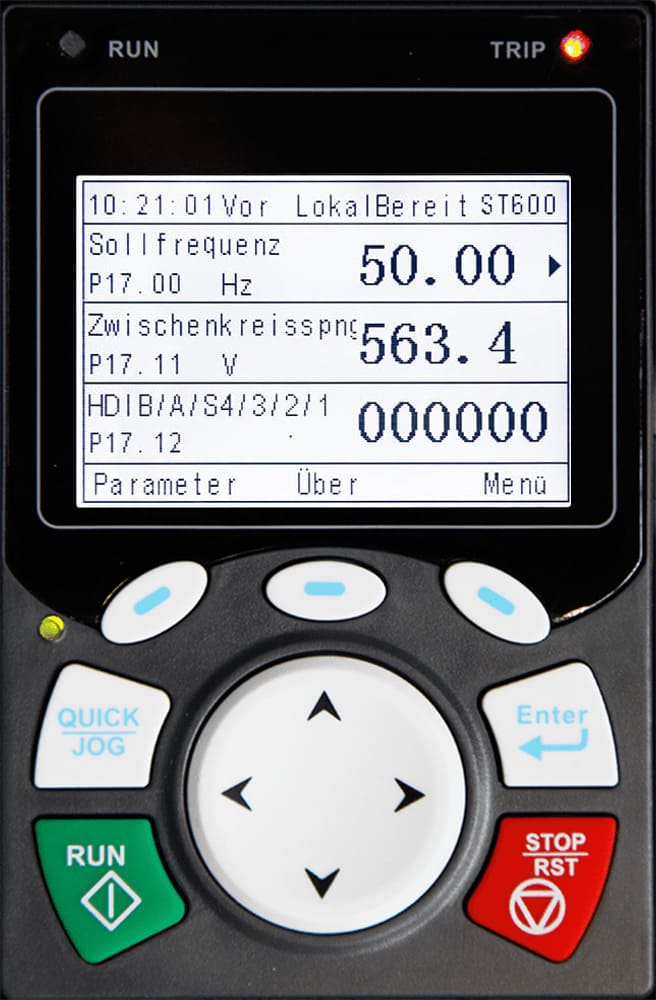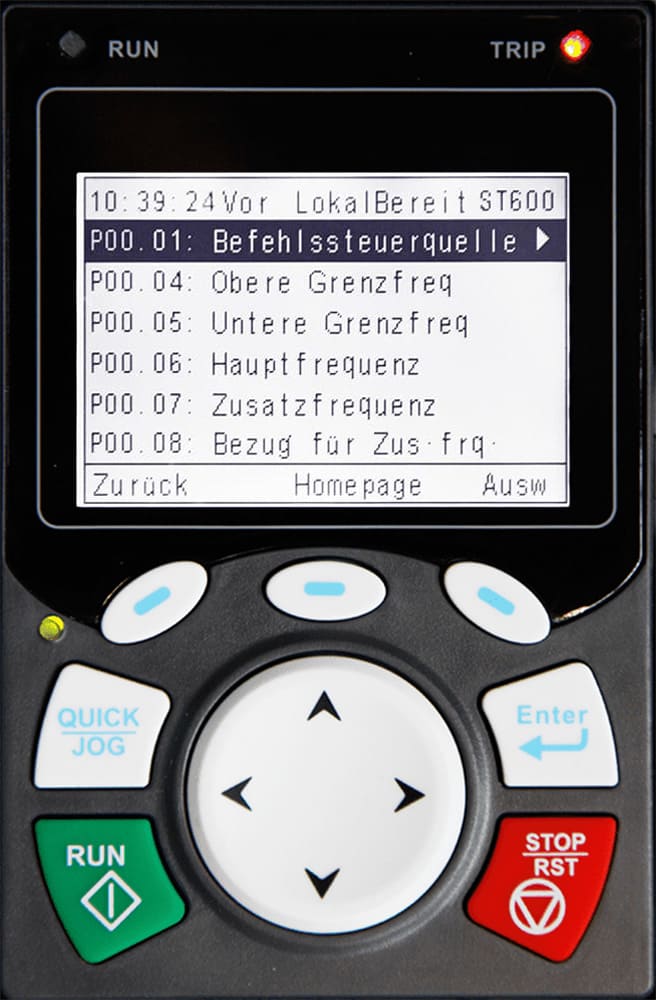 Frequency Inverter ST600 450KW 400V
Goods expected soon
Details
Fachberatung unter
+49 421 277 9999
Description
Product information "Frequency Inverter ST600 450KW 400V"

Meets the ecodesign requirement.
Highlights
Power: 450kW
Input current: 840A
Output current: 820A
Input frequency range: 50Hz / 60Hz ( ± 5%)
Output frequency range: 0-400Hz
Voltage: 380V (15%) - 440V (10%)
Standardised emergency stop function according to SIL2 level (STO)
Graphical removable LCD control panel
Expandable with WIFI, Bluetooth, ProfiNet/Profibus, CANopen, PG, SPS, IO
Integrated braking unit
Integrated EMI Filter C3
Flexible digital and analogue I/O
Advanced PID control
Easy intuitive commissioning and short installation
Flexible speed setting with panel keys
Overload capability: 1min 150% / 10 sec 180% / 1 sec 200%
Auto-slip compensation RS485 interface integrated (control protocol Modbus RTU standard)
German interactive operating instructions
Inputs
Digital inputs

Programmable digital inputs:
6, of which 4x max. 1kHz (S1-S4), 2x max. 50kHz (HDIA, HDIB)
with 82 input functions
Voltage level:
0 - 24VDC
Logic:
PNP / NPN
Factory default: PNP (active when the input is connected to +24V)
Maximum voltage at input:
30VDC
Number of programmable pulse inputs:

2 (HDIA, HDIB)

Maximum input frequency:

50kHz, duty cycle 30 to 70%

Resolution for frequency control:

0.1%

H1, H2
Redundant inputs for connection to +24V via normally closed contacts for the STO safety function (immediate interruption of power to the drive if at least one of the connections to +24V is interrupted). In factory setting connected to +24V via shorting jumpers (STO inactive).

Analog inputs

Number of analog inputs:
2
Type of inputs:
AI 1: 0-10V / 0-20mA
AI 2:-10 - +10V
Resolution for frequency control

max. frequency * 0.05%, tolerance ±0.5%@25°C
Outputs
Output (U,V,W)

Control modes:
U/f characteristic curve / vector control
o. PG / vector control w. PG
Output voltage:
0 - 100% of the mains supply
Output frequency:

0 - 400Hz (vector control or V/f - control)

Nominal motor voltage:
400V
Ramp times:

0.0 - 3600.0s

Ramp functions:
Linear / S-curve
Overload function:
150% for one minute
180% for 10 seconds
200% for 1 second
Carrier frequency:
0.5kHz - 16.0kHz adjustable
U/f curve modes:
Linear / Square / Adjustable

Digital output / pulse output

Programmable outputs:
2; 1 high-speed output, max. 50kHz,
1 open-collector output, max. 1kHz
51 output functions
Voltage level:

24VDC, max. 30VDC, 50mA

Logic:
NPN

(output is actively pulled against COM or CME)

Minimum output frequency:
0Hz
Maximum output frequency:
50kHz

Relay outputs

Programmable outputs:
2
Clamp number:
RO1A-1C and RO2A-2C: normally open
RO1B-1C and RO2B-2C: normally closed
Maximum power AC:

250VAC / 3A

Maximum power DC:
30VDC / 1A
Number of functions:
51

Analog outputs

Programmable outputs:
1
Voltage range:
0 - 10VDC
max. 5mA
Current range:
0 - 20mA
max. load 250Ohm
Number of functions:
32

Modbus

RS485
Integrated

Optional

The optional IO501 expansion card adds 4 digital inputs S5-S8, 1 digital output Y2, 1 analog input AI3 (0-10V/0-20mA), 1 analog output AO2 and two relay outputs
Integrated protection concept
Earth-fault protection
Over- and undervoltage protection
Overcurrent protection
Over- and underload protection
Temperature display rectifier and IGBT output stage
Protection against overtemperature
Overvoltage prevention during braking
External stop signal
Safe Torque Off (STO)
Stop when communication is interrupted
Detection of abnormalities in the PID signal and PG error
Input for motor temperature bimetal switch/PTC
Password protection
Auto self-test after restart
Display and functions
Display:

Frequency, current, voltage, torque, PID, ...
Error messages
Key lock / parameter transmission
Languages: DE, EN

Error messages:

Error type
Output and bus voltage
Output current
Setpoint and actual frequency
Inverter terminal status
Temperature

Automatic functions:

Measurement of motor data
Voltage readjustment (AVR)
Active current limitation
Restart in case of mains failure
Slip compensation
Enclosure types and dimensions
Rated voltage

Output power [kW]

Rated input current [A]

Rated output current [A]

Housing dimensions in mm
(W x H x D)

Weight [kg]
net / gross

3-phase 400V
450
840
820

620 x 1700 x 560

350 / 407
Environment
Temperature range -10°C to +40°C at nominal load
Storage temperature -20°C to +65°C
Humidity 90% RF - without condensation
Can be used up to 1000m above sea level without power reduction
Vibration test under 5.9m/s²=0.6g
Safety level according to IEC61800-5-1/2+A1
Electromagnetic compatibility according to IEC61800-3
Protection class: IP20 (EN 60529), pollution degree 2
RoHS-compliant
CE-compliant
Scope of delivery
Frequency inverter ST600
German operating instructions
Further functions
Rated motor frequency 50Hz and 60Hz
Forward and reverse operation
Controller enable control panel/terminals/bus
16 configurable speed levels selectable via digital inputs
12 different speed control options
Continuously adjustable clock frequency: 1.2kHz-15.0kHz (PWM)
"Open-loop boost mode
DC brake function (duration, strength, frequency) & JOG control
Simultaneous control of several drives "Slave-Vector-Control
Reduced motor noise through precise PWM function
Avoidance of vibrations due to selectable blocking frequencies
Variable speed with constant torque
"Plug & Play"
Brake units and brake resistors

External braking units are used in applications with heavy loads and rapid load changes on the motor. The braking unit protects the frequency inverter from excess energy in the DC link that is fed back from the motor. This excess energy is then converted into thermal energy by the braking resistors connected to the braking unit and released into the environment.

EMC - Filters and chokes

EMC filters and interference suppression chokes are also available as additional accessories for each power class.

Bus systems

Supports many common bus systems such as PROFINET, PROFIBUS as well as Modbus RTU
Digitalisation of drive technology - bus systems, internet and cards
The frequency inverter has standard 485 communication and is flexibly expandable with PG card, PLC card, IO card, ProfiNet, Profibus, WIFI, Bluetooth, CANopen, etc. The PG card uses digital filtering technologies to improve electromagnetic compatibility and enable stable reception of the encoder signal over long distances. Compared to the traditional scheme, the anti-interference performance is doubled. High speed is achieved with 2 x HDI, and high-speed AB pulse is also supported as an input signal.
Preventive maintenance - Continuous improvement of your production
Your electric motor-driven application requires reliable performance. Maximum system availability and operational safety is achieved through customised services, such as wireless troubleshooting via remote access or Bluetooth access using the smartphone APP. The parameter sets can be read out quickly via the USB port. An external uplink allows the inverter's operating curve to be recorded for maintenance and analysis.
Sustainability - energy efficiency and IE2 class according to IEC 61800
Up to 70% of the electricity consumed in industry worldwide is used to run electric motors. Pumps are one of the most common applications and offer the greatest potential for savings. Frequency converters can help solve the challenges of the energy transition. Because at half speed, only one eighth of the energy is needed. You will be interested to know that Sourcetronic frequency inverters already meet the strictest requirements of the IEC 61800-9 standard for energy efficiency and are classified according to IE2.
| | |
| --- | --- |
| Input voltage: | 400V |
| Protection class: | IP20 |