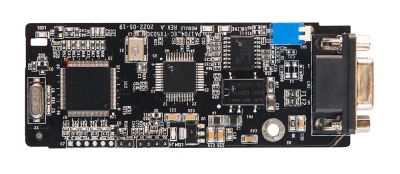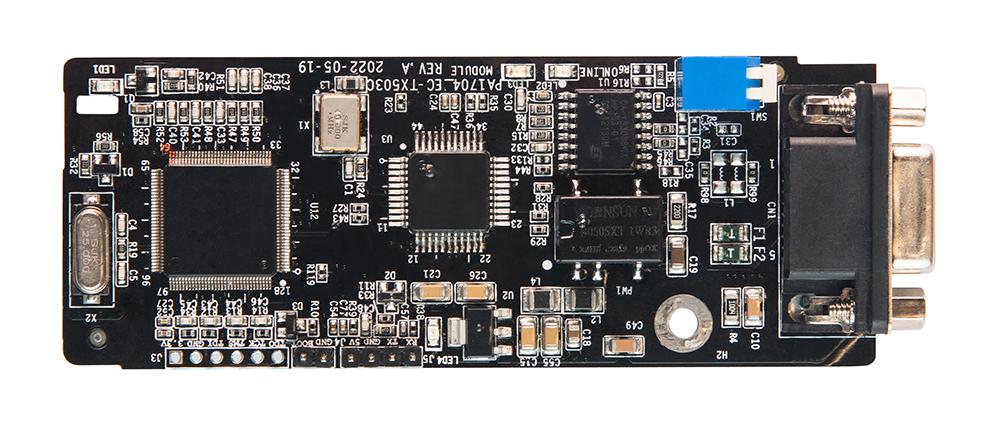 Profibus DP expansion interface ST600 - STX503
In stock
Details
Fachberatung unter
+49 421 277 9999
Description
Product information "Profibus DP expansion interface ST600 - STX503"
Profibus is the standard interface when it comes to communication in automation technology. The "Process Field Bus" DP (Decentralized Periphery) enables communication between the central control unit and the sensors and actuators in the field.
The STX503 Profibus-DP expansion card enables the integration of an ST600 series frequency inverter into a Profibus network.
.
.
The expansion card is simply plugged into one of the designated slots of the ST600 frequency inverter. Frequency converters up to a power of 5.5 kW have 2 slots, higher power classes have 3 slots.
. .
Highlights
.
Compatible with ST600 series frequency inverter
.
Connection via Sub-D-9 female
.

termination resistor adjustable by DIP switch

.

Transmission rate: 9.6kbit/s to 12Mbit/s

Use of shielded cable with twisted pairs recommended

.

Up to 32 nodes (without repeater) and 127 nodes (with repeater) in one segment of the network

.

Setting the address of the subscriber via parameters in the inverter

.

24V power supply card SPS501-24 recommended as supplement

.
The connection is made via a conventional Sub-D-9 socket. On the expansion card there is a DIP switch, which connects the connector to a terminating resistor. If it is the first or last participant in the network, the terminating resistor must be activated. The DIP switch does not need to be activated if a terminating resistor is integrated in the connector of the connection cable. The transmission rate ranges from 9.6kbit/s to 12Mbit/s. For the connection should be a shielded cable with twisted pair.
.
.
.
For frequency inverters with a power of 30kW and less, the use of the expansion card requires the breaking out of a pre-stamped opening in the inverter housing (see photo). Thus, the routing of the Profibus cable takes place next to the housing. For frequency inverters with a power of 45kW and more, the routing of the cable takes place inside the housing.
.
.
In a fault-free condition, the power supply for the Profibus expansion card is provided by the frequency inverter itself. However, should there be a failure of the 400V power supply of the inverter, the communication breaks down.
For this reason, we recommend as a supplement the 24V power supply card, which supplies both the control board of the frequency inverter, as well as the expansion cards installed in this with an external control voltage.Thus, the communication is maintained even in the event of a failure of the inverter.
.
.
.