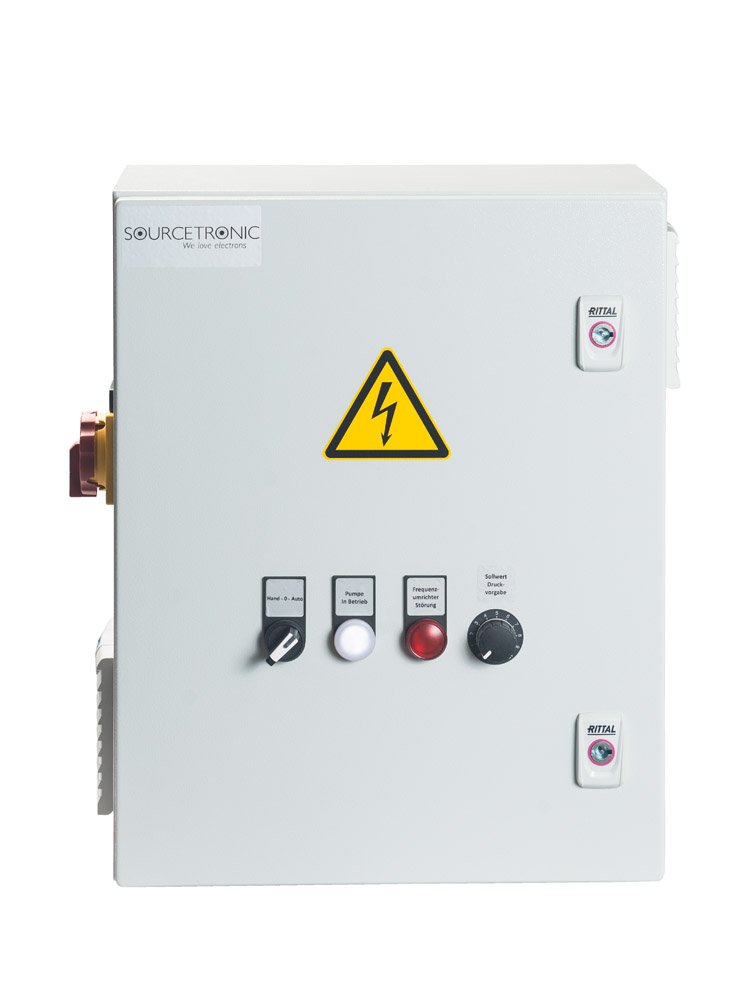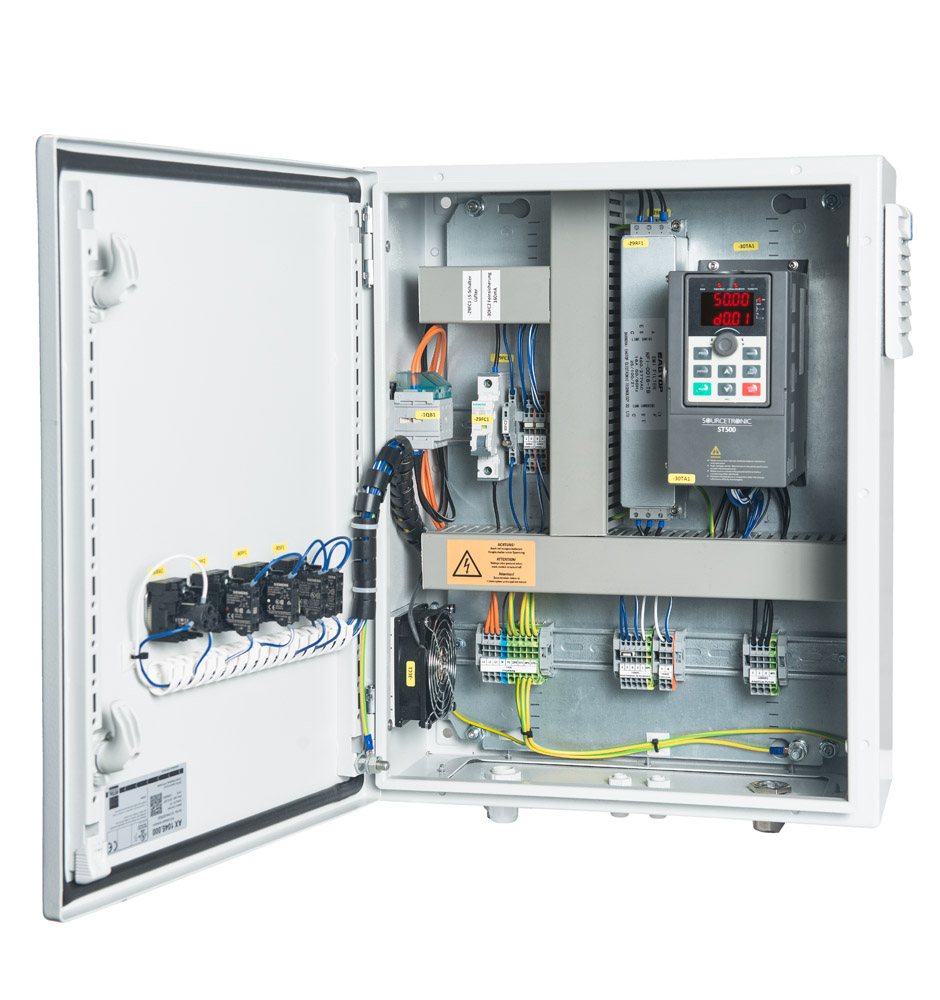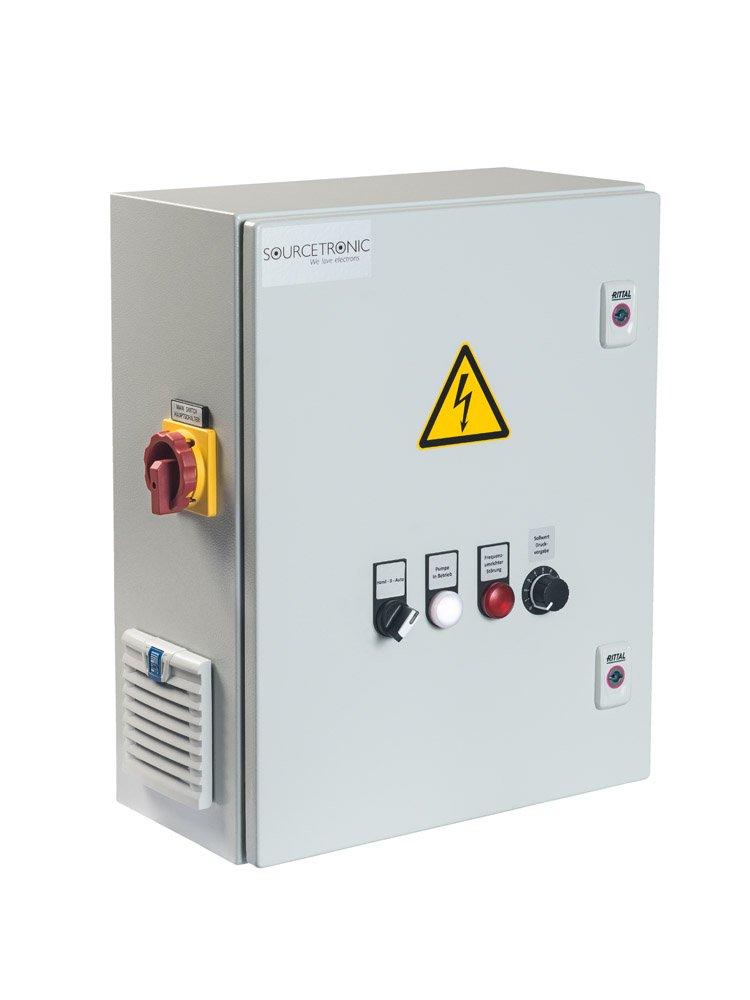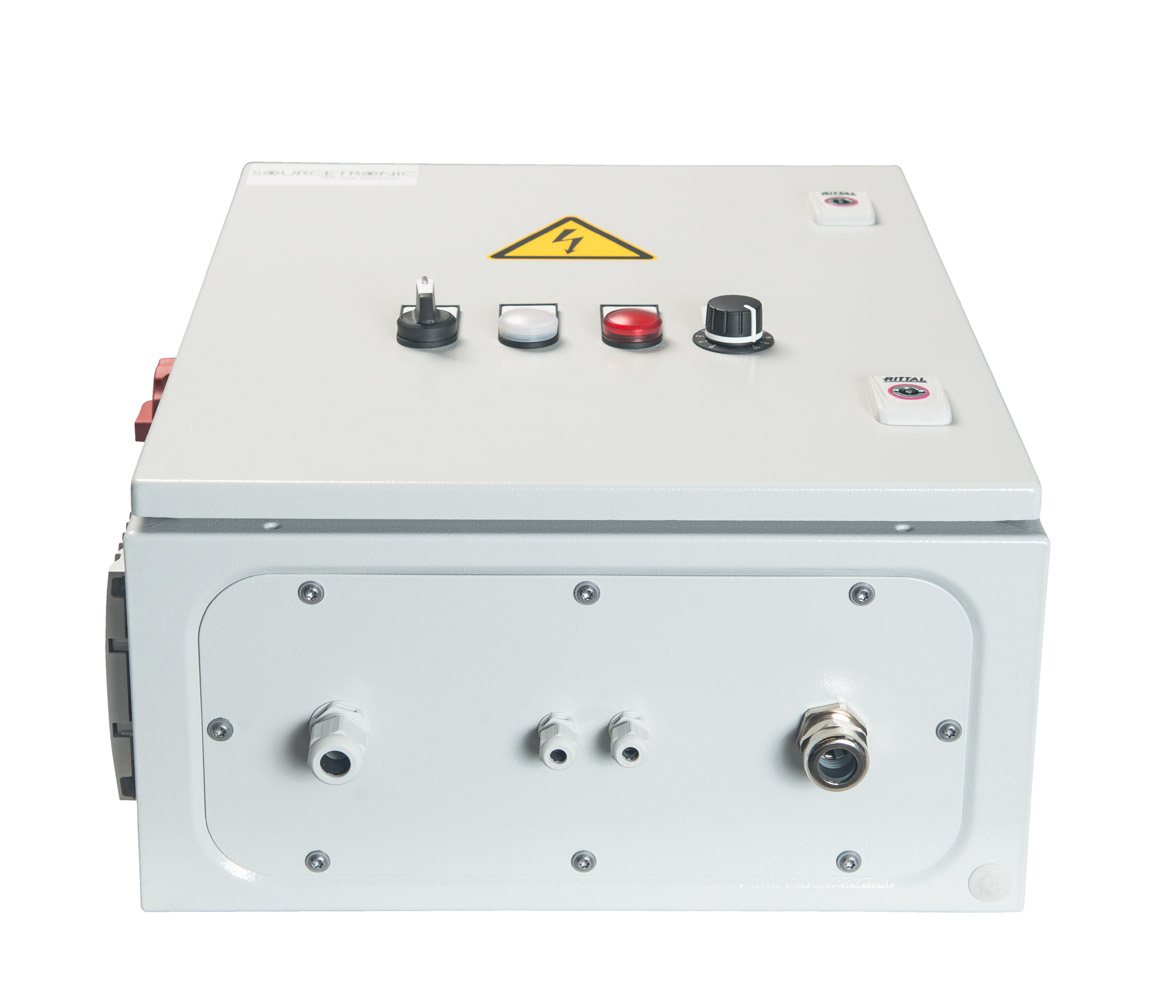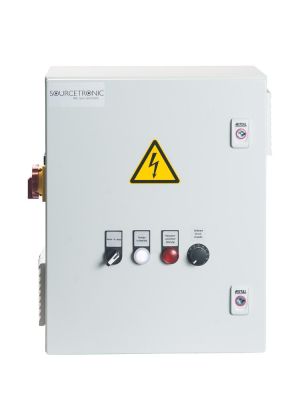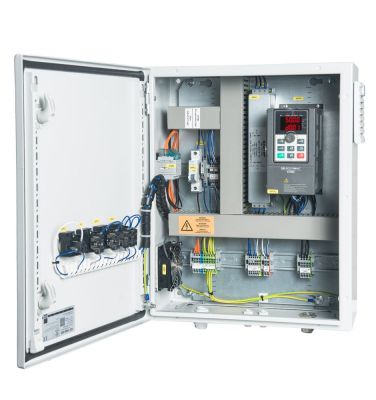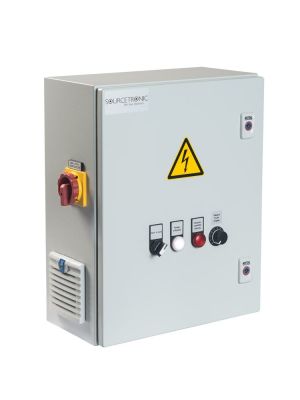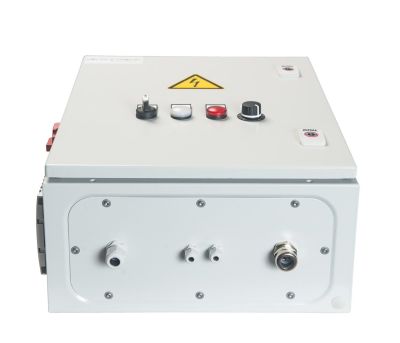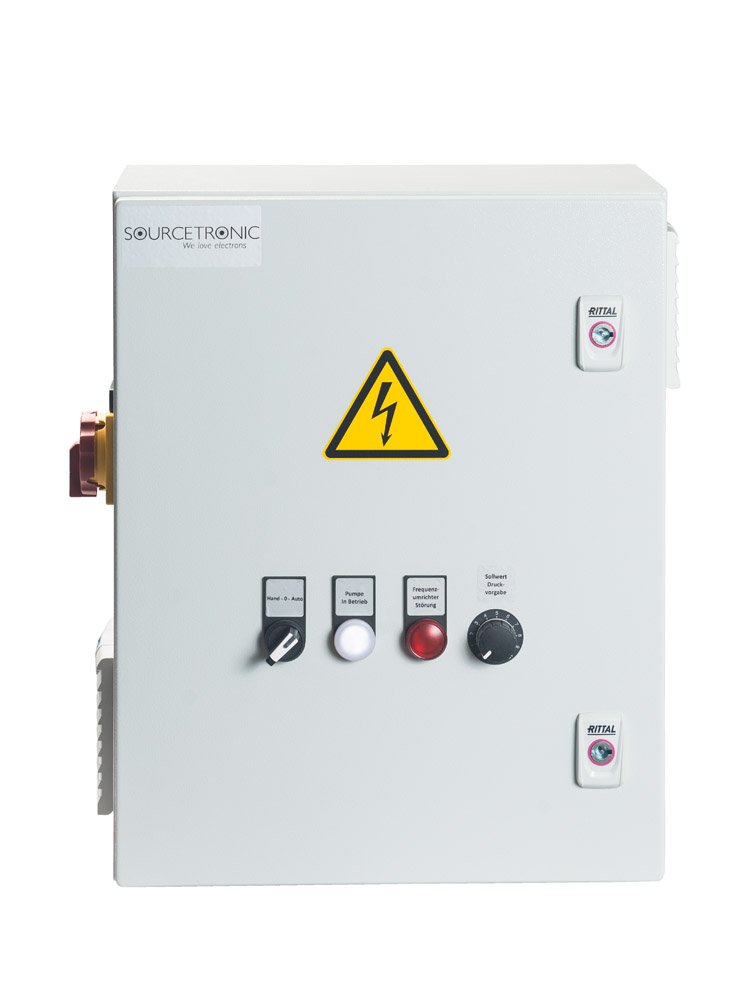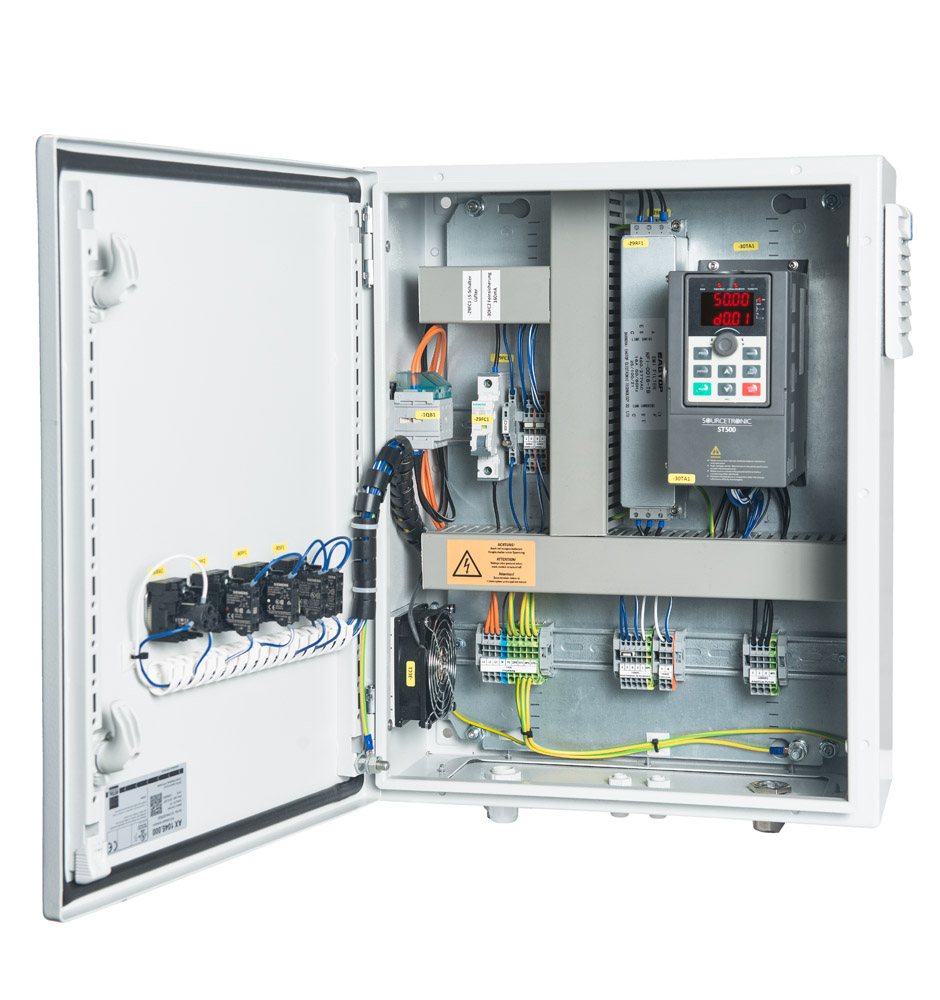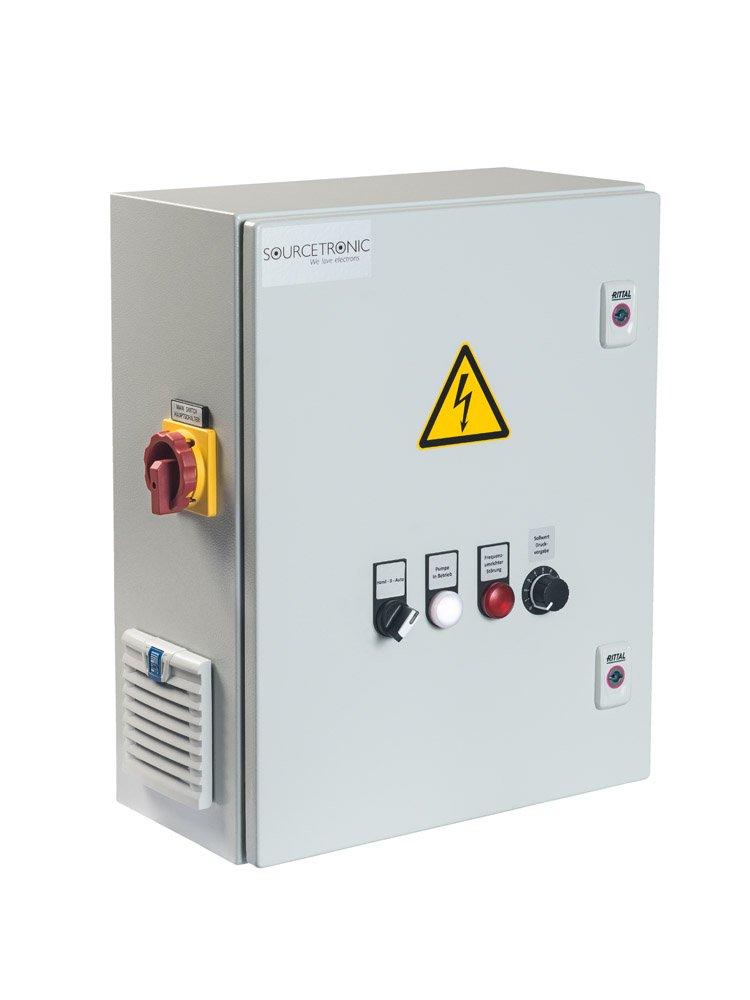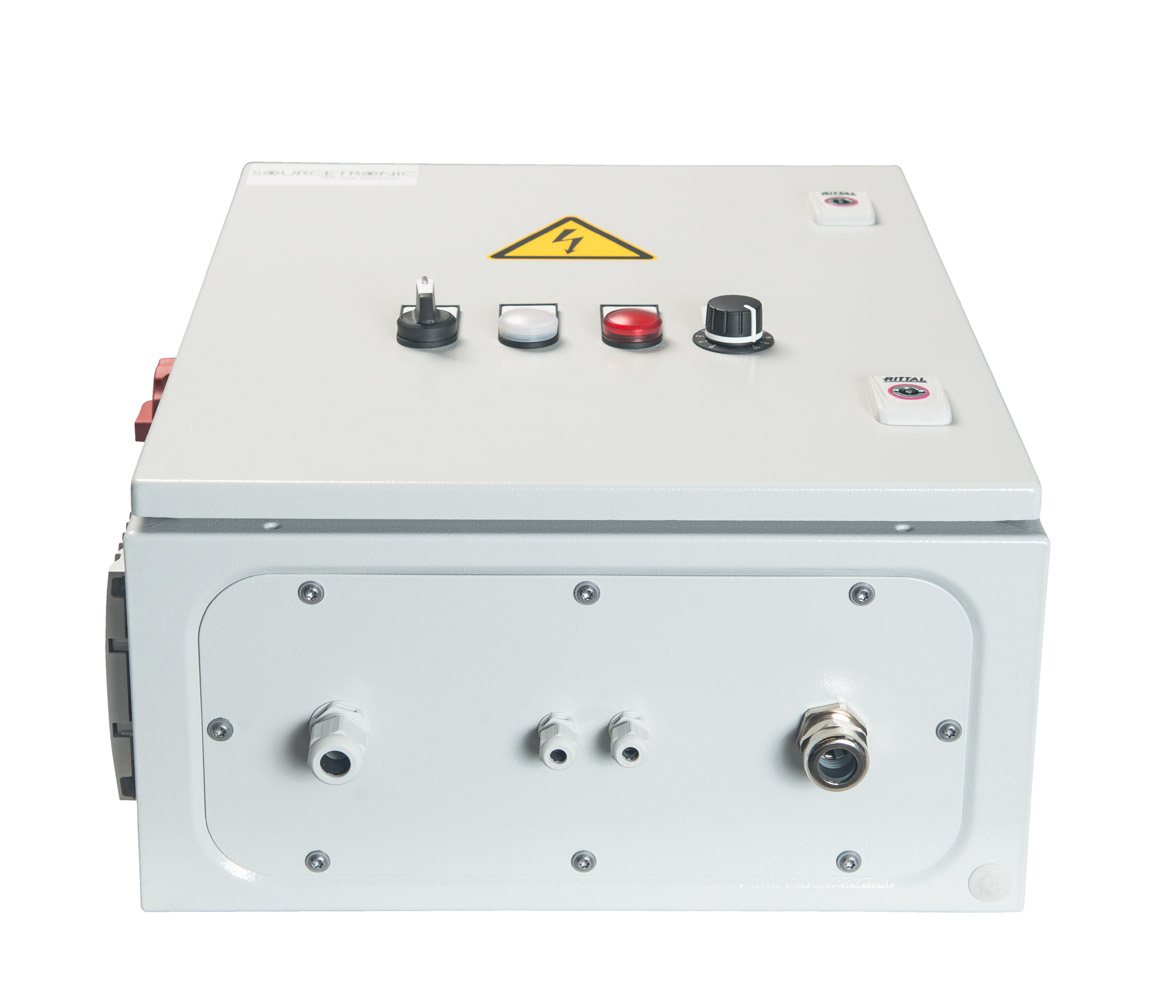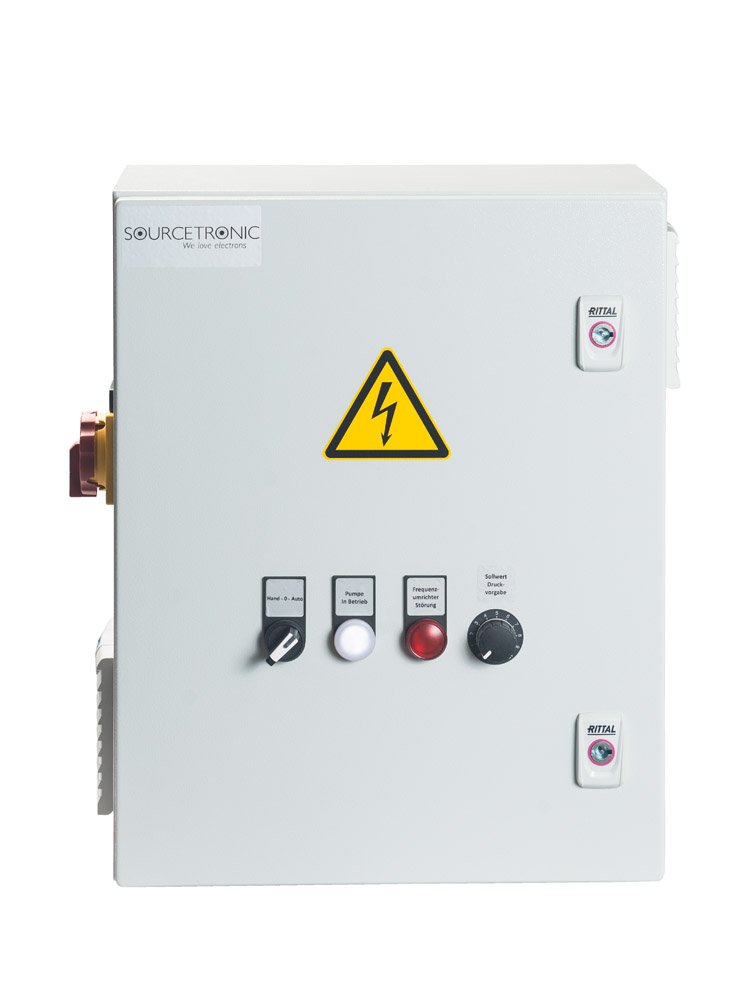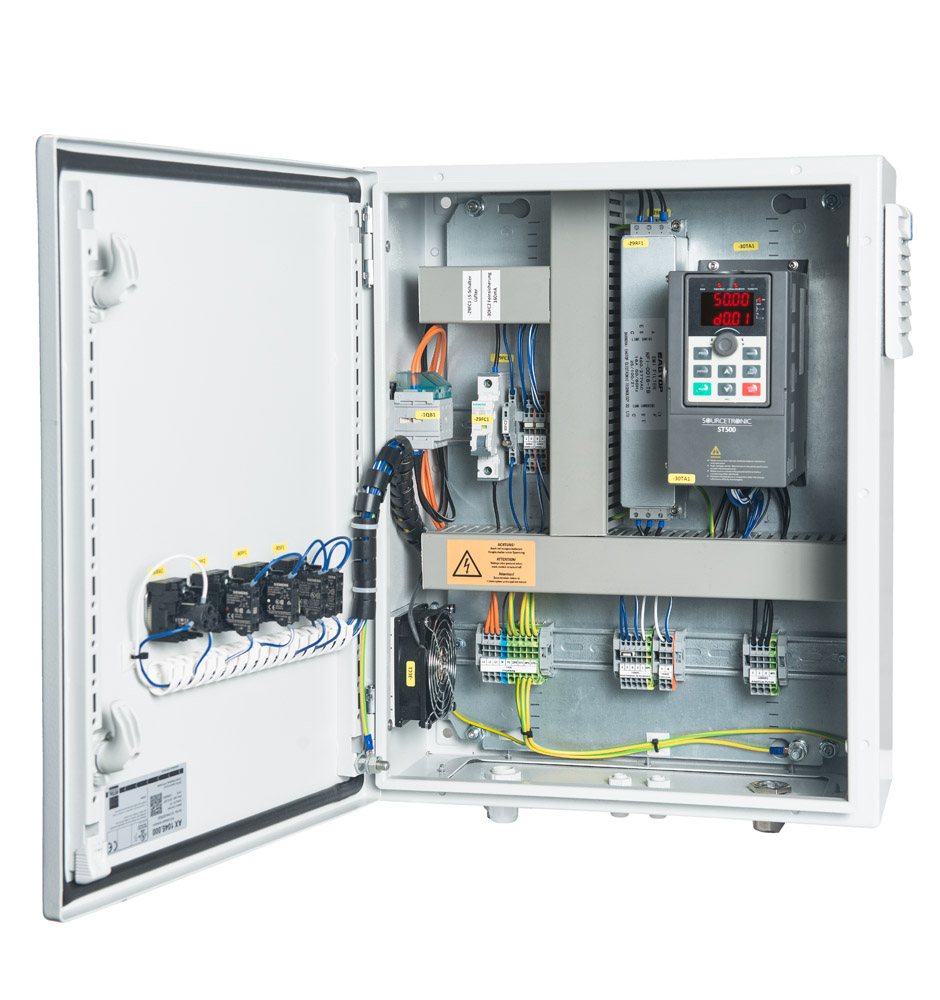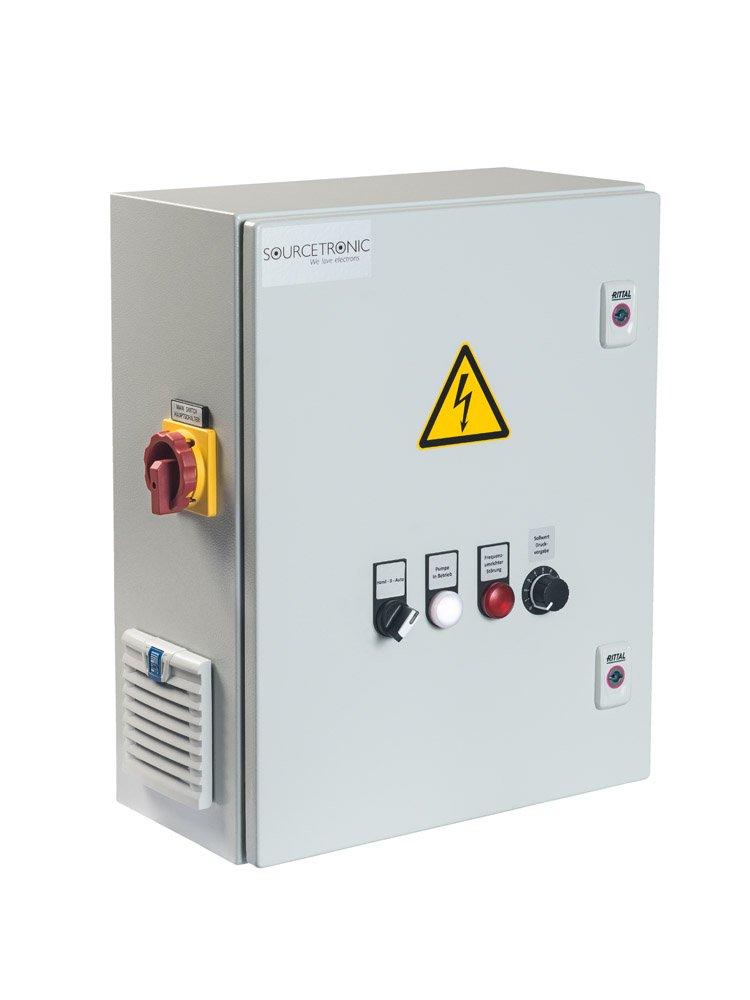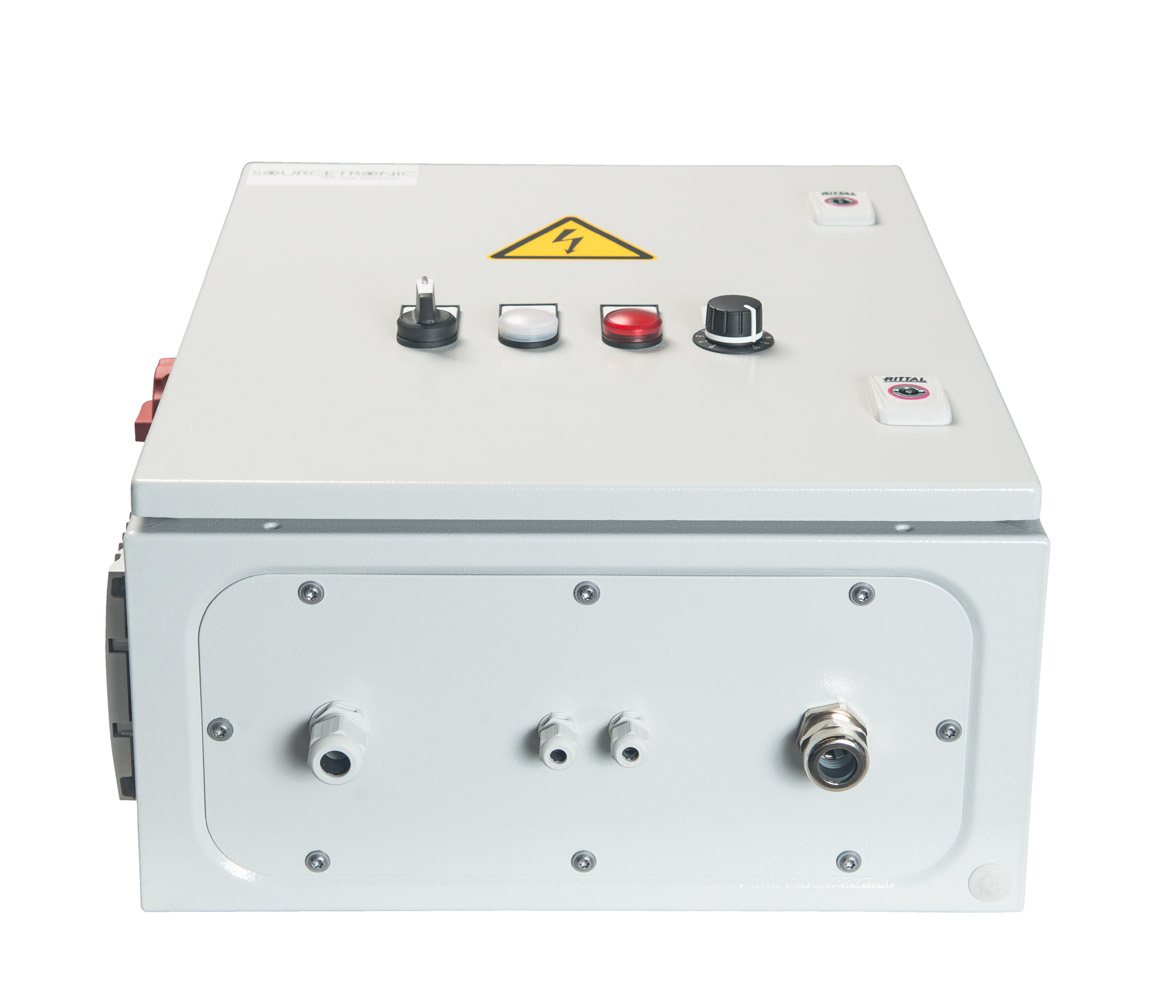 Pump Control 5.5kW SPC055
Goods expected soon
Details
Fachberatung unter
+49 421 277 9999
Description
Product information "Pump Control 5.5kW SPC055"
Highlights
Motor power: up to 5.5 kW / 400 V
Rated current: 13 A
Integrated frequency converter ST500
Mains filter SFI (C2 environment)
Motor choke
Dry-running protection via current measurement
Connections:

External dry-running protection
Motor temperature monitoring (PT100/PT1000/PTC)

Protection concept:

Overvoltage, undervoltage, overload protection
Phase symmetry monitoring
Password protection
Technical Data
Power (motor): up to 5.5 kW
Output voltage (motor): 0-400 VAC 0-50 Hz
Maximum frequency: up to 3200 Hz
Operating voltage: 400 VAC 50/60 Hz
Rated current (inverter): 14.6 A
Back-up fuse: 25 A
Supply cable: max. 2.5 mm² copper
Motor cable: max. 2.5mm² copper, max. 50m long (shielded)
Protection class: IP54, EN60529/NEMA4
Weight: 50 kg

Functions

Manual operation:

Speed control via potentiometer in the control cabinet door
Switching off by setting the switch to the "0" position

Automatic mode:

Speed control via PID control depending on the set reference value
Actual value e.g. via pressure transducer or level probe
Pressure control, level control, temperature control (PID), etc.

SIEMENS operating/indicating elements:

Main switch, latching (yellow/red, side panel left)
"Hand-0-Auto" toggle switch
Precision potentiometer 4.7 kOhm
Indicator lamp, red, "malfunction
Indicator light, white, "pump in operation

Variable START-STOP ramps
Rest and wake-up frequency
Operating hours counter
150% 1min, 180% 2s Overload capability
Double display inside (e.g. output frequency and motor current)

Other data

Housing

Powder-coated and dip-primed steel
Single-door, closed all round, foamed-in door seal
Door hinge left with 2 sash fasteners
Galvanised mounting plate and WAGO connecting terminals
Air-conditioned with TopTherm filter fan (B4A circuit-breaker protected)
Colour: RAL 7035 structure
Dimensions (W/H/D): 500/700/250 mm
The dimensions may vary depending on the version due to additional components such as filters, switches, etc.

Connections (bottom)

Supply line (M25 screw connection)
Pump (M25 EMC gland)
PID feedback variable 0-10 V or 4-20 mA (e.g. pressure transmitter or level probe) (M16 screw connection)
Temperature contact (PT100, PT1000 or PTC thermistor with step characteristic) (M16 screw connection)
Dry-running protection, potential-free (M16 screw connection)

Protective functions

Motor current limitation
Adjustable blocking frequencies (pump cavitation)
Adjustable overload protection (pump)
Adjustable dry-running protection by measuring the motor current
Overcurrent, overvoltage, undervoltage
Phase loss (input/output)

Scope of delivery

SPC Key
Operating instructions
Circuit diagram "ePlan
Test protocol
Parameter list
---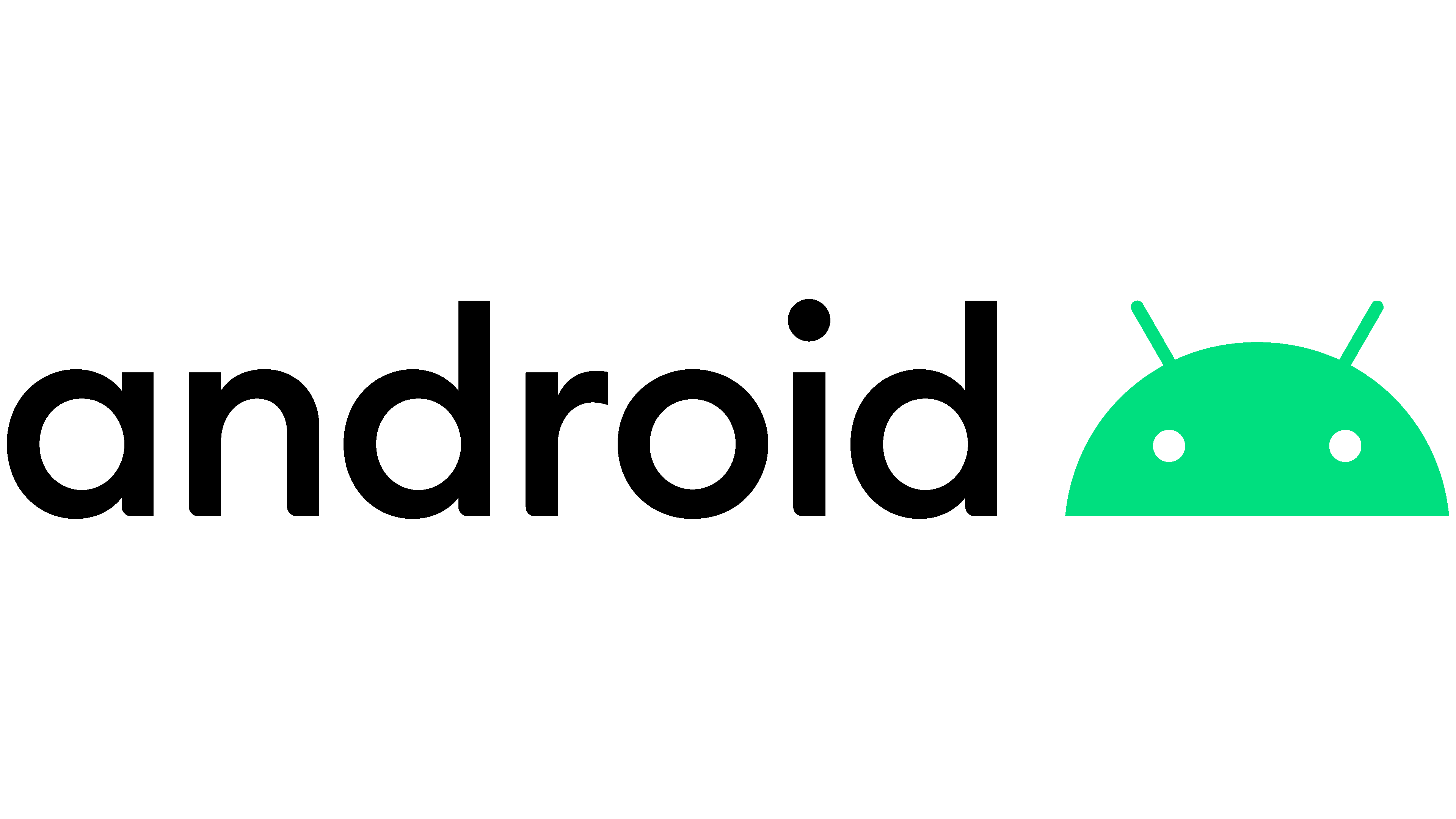 Bluetooth-Bundle available: Convenient control of the inverter with the App.
Optional
Pressure transmitter for pressure control
GSM module for fault messages
Project planning of the entire system
Installation, commissioning & service
Software: ST®DRIVE, ST®APP
Platform Fontaine 24/7
Cascade control
The SPC055 pump controller is the best choice for power-saving and versatile control/regulation of your pump application. Wired and tested according to standards, the SPC055 pump control offers the quality you have come to expect from Sourcetronic. The integrated ST500 frequency converter combines many electronic protective functions and state-of-the-art digital technology. Extensive functions of the inverter are read and controlled via a removable control panel with two-line LED display, multifunctional rotary wheel and 7 keys. The parameters of the frequency inverter can be conveniently stored in the display for easy transfer to other controllers.
This pump control is the professional solution for operating a pump in industrial and craft applications as well as in municipal sewage stations and pumping stations. The SPC055 has a manual and an automatic mode, which can be selected via a toggle switch in the control cabinet door. In manual mode, the pump runs at the frequency set with the potentiometer in the control cabinet door. In automatic mode, the integrated PID controller controls the speed of the pump. The control can be used in dependence of all process values (e.g. pressure control, level control) whose actual state can be transmitted to the inverter by means of a suitable transducer (0-10 V or 4-20 mA). The setpoint to which the pump control regulates the pump with the aid of the actual value (e.g. actual pressure) is set via the control panel of the frequency inverter. Optionally, the frequency inverter can be set so that the PID setpoint is specified with the potentiometer.