Megohmmeter MD-10kV
Goods expected soon
Details
Fachberatung unter
+49 421 277 9999
Description
Product information "Megohmmeter MD-10kV"
Highlights
10 KV Digital Megohmmeter
Microprocessor-controlled
Insulation resistances 10 kΩ - 10 TΩ
Auto-range
Digital & bar-graph reading
Automated tests:

Absorption Ratio
Polarization index, Capacitance
Leakage current, AC/DC voltmeter

Chronometer up to 90 minutes
External-noise-interference-filter
Step voltage test
Real time clock and calendar
4000 readings memory
Isolated USB data port
Software for data management
Rechargeable battery
The digital insulation tester model MD-10KVx is Sourcetronics cutting edge insulation analyzer equipment and it is one of the most complete and sophisticated available in the international market. A powerful software allows for further analysis of tests results, including features such as graphical representation and automatic report generation. Its proven technology provides safe, reliable and accurate measurements of insulation resistances up to 10 TΩ, with 4 pre-selected test voltages, 500 V - 1 kV - 5 kV - 10 kV. Other test voltages may be selected in steps of 25 V, 100 V or 500 V. A state-of-the-art microprocessor controls the equipment operation and enables the incorporation of advanced features which make measurements easier:
auto-range selection
4000 readings memory
AC/DC voltmeter
automatic measurement of Absorption Index and Polarization Index
leakage current and capacitance measurement
timer enabling programming of test duration
configurable Pass-Fail test, Step voltage test
real time clock and calendar. Built-in chronometer
indicating elapsed time, in minutes and seconds
since the test started, up to 90 minutes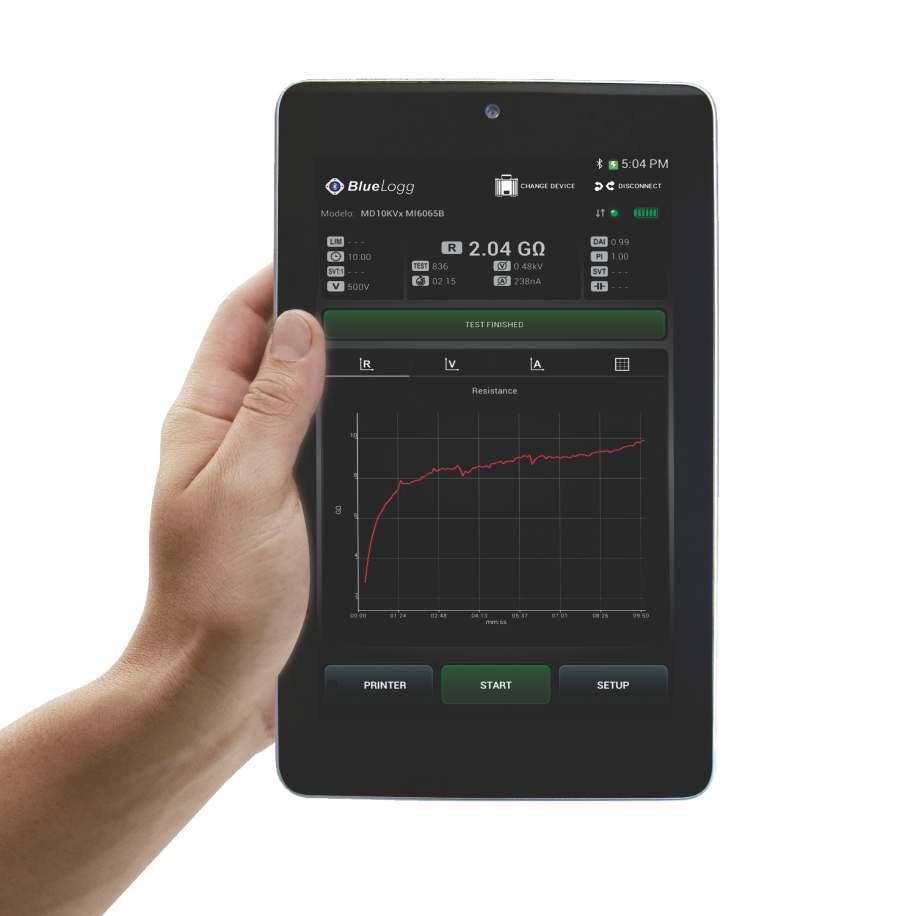 Measured values are transmitted through the USB interface or Bluetooth and are printed in the built-in printer as a registration of the performed test. Furthermore, the measured values are stored in a non-volatile internal memory. Up to 4000 measurements may be stored, to be transferred afterward to a computer running the MegaLogg2 program. This software allows a further analysis of the test results, including a graphical representation and automatic report generation. The real time clock and calendar, and the sequential test number, facilitates the identification of each test, and the organization of a predictive maintenance system by trend analysis.
The MD-10KVx is powered using a rechargeable battery. The cabinet is strong and lightweight, easy to carry, impact-resistant and suitable to be used under severe weather conditions. Thus the megohmmeter supplies very reliable and accurate measurements both in laboratory and out in the field.
What's in the box
2 x measuring test leads (25kV insulation)
1 x GUARD test lead
Charger power cord
USB cable
Protective bag
PC software ST Logger 2.3.1
Factory calibration certificate
Operation manual
Options
Built-in printer (option)
10 printer paper rolls (printer option)
Technical data
Technical Data

Test voltages:
500V/1KV/2.5KV/5KV/10kV directly, one button selectable
500V to 5kV in 25V, 100V or 500V steps
DC, negative
Resistance reading (10kV):
10TΩ
DC Voltmeter:
15V up to 600VDC (5% of reading + 3 digits)
AC Voltmeter:
15V up to 600Vrms (5% of reading + 3 digits)
Overvoltage category:
CAT.III- 600V
Leakage current measurement:
1 nA up to 1500 nA
±(10 % of reading + 3 digits)
Capacitance measurement:
50 nF up to 10 µF ; 500 V
50 nF up to 5 µF ; 1000 V
30 nF up to 2 µF ; 2500 V
30 nF up to 1 µF ; 5000 V
30 nF up to 680 nF ; 10000 V
Accuracy: ±10 % of reading ± 3 digits
Short circuit current:
Max. 2 mA
Test voltages accuracy:
± 3 % of nominal test voltages on 10 GΩ
Megohmmeter basic accuracy:
± 5 % of reading 1 MΩ to 1 TΩ ; 10 kV
± 20 % of reading 1 TΩ to 5 TΩ ; 10 kV
(for lower test voltages, the upper limit will be reduced proportionally)
± 20 % of reading 10 kΩ to 100 kΩ
± 10 % of reading 100 kΩ to 1 MΩ
Serial data output:
RS-232 with optical isolation
Automated Polarization Index Calculation
Automated Dielectric Absorption Ratio Calculation
Programmable "Pass-fail" test
Step voltage test
4000 readings memory
Switchable filter to remove external noise interference
Built-in printer (option)
Built-in chronometer
User-friendly Megalogg2-Software (graphic and tabular views)
Environmental protection IP54 with closed lid
Safety class IEC 61010-1/1990, IEC 61010 1/1992
E.M.C in accordance with IEC 61326-1
Electrostatic immunity IEC 1000-4-2
Electro magnetic irradiation immunity IEC 61000-4-3
Internal rechargeable 12V - 3Ah Ni-MH battery
Battery charger for 100 - 240V~ mains
Operating temperature range:
-5°C to 50°C
Storage temperature range:
-25°C to 65°C
Altitude:
up to 3000m
Humidity range:
95% RH (non condensing)
Weight:
6.3kg
Dimensions:
406 x 330 x 174 mm
CE mark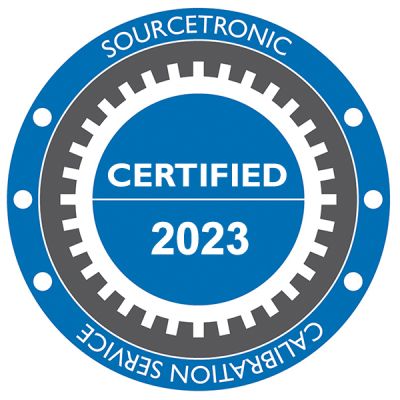 Calibration Insulation Tester
Standard-compliant, multi-vendor calibration based onISO 17025
Several measurement ranges
Insulation tester
Traceable to DKD
Cleaning and adjustment
Repair service