Transformer Tester ST2829AX-24
Goods expected soon
Details
Fachberatung unter
+49 421 277 9999
Description
Product information "Transformer Tester ST2829AX-24"
Speed, Accuracy, Efficiency
Most switching transformer and network transformer manufacturers have an urgent need for a transformer test system that can achieve more functions, high efficiency and accurate test. On the basis of thorough market research and analysis, advanced impedance test technology and rich experience on the development of ST2818X & ST2819X automatic transformer test system, Sourcetronic has launched a new series of automatic transformer test system - ST2829X series combines faster test speed, higher accuracy and efficiency. ST2829X will be a great assistant for your transformer tests.
Highlights
Frequencies: 20Hz - 200kHz
Basic Accuracy: 0.05%
800x480 LCD-color-display
Measuring Speed: 13ms
Interfaces: LAN-LXI, USB, RS232, Handler, DCI, (GPIB option)
LCR option
24 Pin
Overview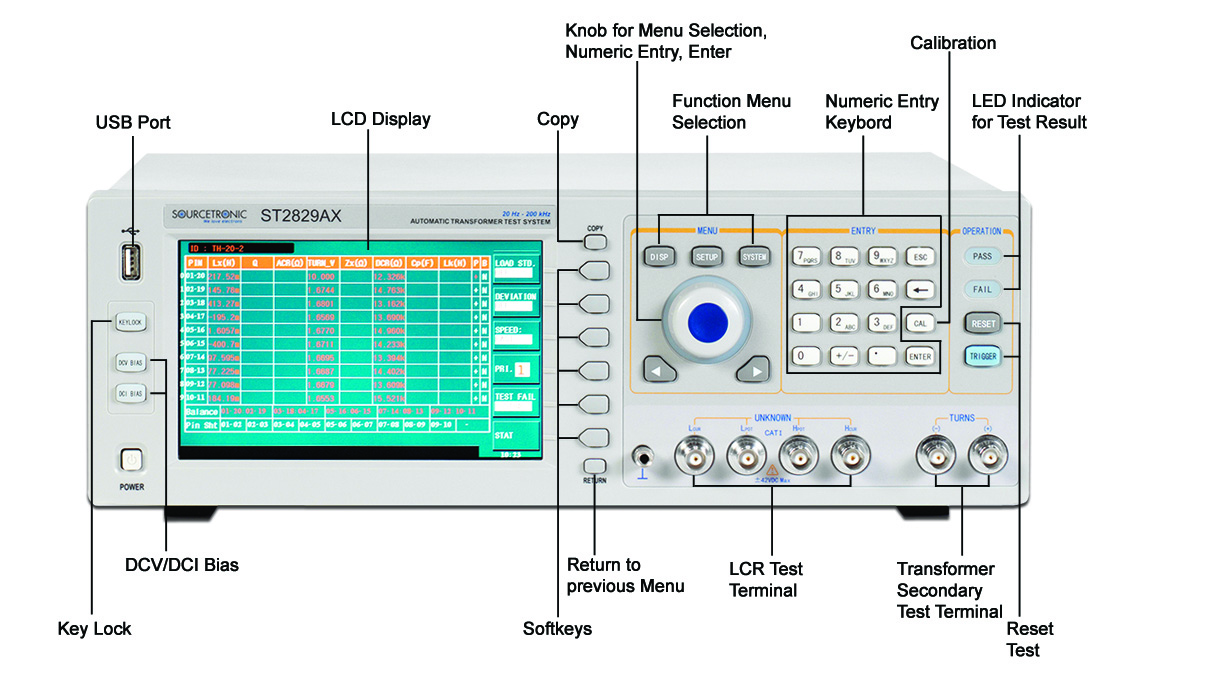 Specification
7" 16:9 TFT LCD display with a resolution of 800x480
Up to 1MHz test frequency, 0.5mHz resolution
Signal amplitude range: 5mV to 10Vrms, 100μVVresolution
Test speed is up to 75meas/sec
Built-in 0-100mA/0-10V bias source (standard) or 1A bias source (optional)
Diode P/N characteristic detection can test all parameters of network transformer
Improved high turn ratio and weak coupling transformer test ability
Improved DCR test ability for low-ohm winding
Flexible time-labeling system: time of file setting, calibration and deduction can be saved
Sort the selected scanning parameters
Flexible deviation and deduction modes
Multiple handling ways for FAIL cases
Single parameter test cycle can be used to test a separate winding
Internal memory for up to 200 setting files and external USB memory for more
Test data and graphs can be saved as CSV, GIF format to USB memory
The built-in software provides analysis abilities, such as Cpk, Cp and Ck
Bar-code reading function can be used to select a setting file or to manage the type of test products
Parameter setting files are compatible with ST2818X/ST2819X
Program setting files with your local PC
Upgrade operation software of USB HOST and RS232C online
Multiple interfaces are optional for PC communication
To network multiple testers through LAN-LXI interface
Accurate test: wider ranges of test frequency and voltage
According to different frequency ranges, ST2829X provides three types of testers for your choice: ST2829AX with a frequency range of 20Hz to 200kHz, ST2829BX, 20Hz to 500kHz, and ST2829CX, 20Hz to 1MHz. All the three types have a minimum resolution of 0.5mHz and accuracy of 0.05% which can meet your test requirement in you current and future product tests. In addition, ST2829X has equipped a 5mV-10Vrms signal source with a 100uV resolution thus helping you make more accurate test.
High efficiency test: unbeatable fast test speed greatly improves you test efficiency
In combination with test-, control-, display- and processor technology, ST2829X realizes an unbeatable test speed: 75meas/sec. Compared with ST2819X, the scanning speed has improved 40%. With such a fast test speed, your test and production efficiency will improve a lot and further reduce you production cost. When you only need to know PASS or FAIL status, you can turn off the LCD display and then PASS/FAIL LED indicators on ST2829X front panel will show you test result. In this case, the test speed is about 1.5 times faster than that of ST2819X and you can benefit from such a speed as well.
Unique test function: bring much convenience to your test
Most network transformers have diode or LED, but previous transformer testers can not provide the diode P/N characteristic detection function. For network transformer manufacturers, this deficiency brings much inconvenience to their tests and even becomes the bottle-neck of efficiency improvement. Now ST2829X can help them solve this problem by configuring an effective diode P/N characteristic detection function. Users can set its positive constant current source from 0 to 200mA and its negative current to 1uA.
Reduce your budget: standard configuration of 0-100mA/10V DC bias source can greatly reduce your budget
When providing strong test functions, we still try to reduce your budge. 0-100mA/10V bias source is an indispensable function for transformer test, but it is an optional function in the past and you have to pay more for it. But now, this function is a Sourcetronic-standard one on ST2829X, your budget can be greatly reduced. 100mA bias source and 1A bias source are both available on ST2829X. On previous transformer test systems, only 100mA bias source or 1A bias source can be installed, but now the two bias sources have been equipped to ST2829X at the same time and users can make independent control on them on the front panel.
Display more information: all scanning test results and four LCR parameters can be displayed in one screen
The electronic transformer is a kind of special electronic components that has multiple pins and parameters and their tests need the test system to scan various parameters. For the limit of display devices, the test results have to be displayed in several pages on previous transformer test systems, and in order to view all test results, users must turn pages for several times. ST2829X applies a colorful 7" TFT LCD display with a resolution of 800 x 480 which can display all test results of single scanning test in one page and bring much convenience to user's observation and view. When the LCR test function is selected, the display can not only display primary and the secondary parameters in traditional mode but also display two groups of primary and secondary parameters at the same time. In this way, more information can be displayed and users do not need to change the required parameter menus frequently.
Convenient data storage: directly save the scanning test results and the displayed page to external USB disk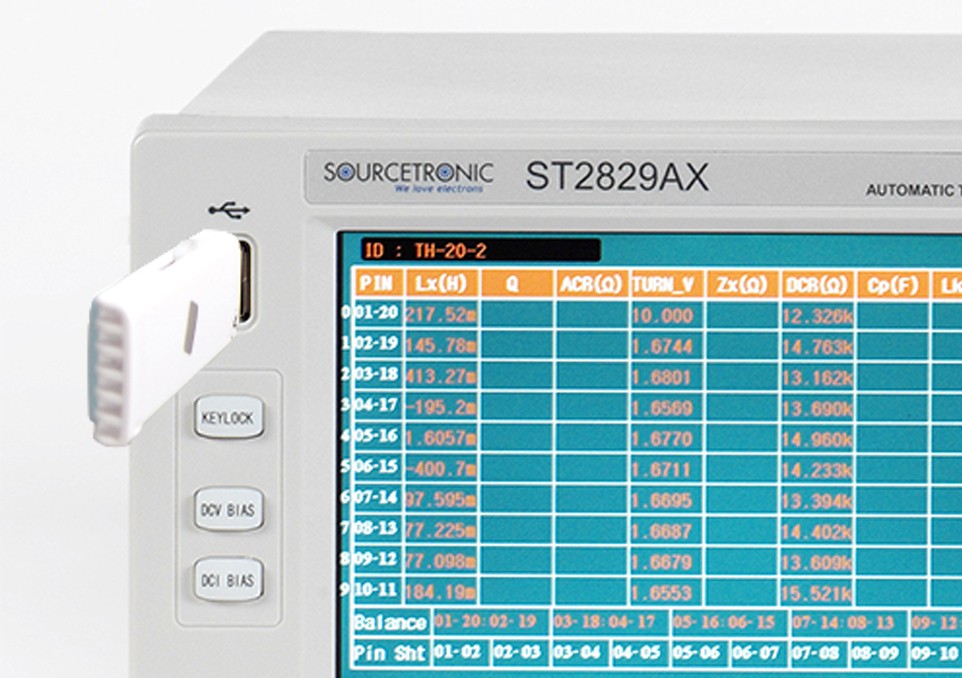 Through the USB HOST interface on the ST2829X front panel, you can save the required data to your external USB disk. Beyond that, the status file, transformer scanning test results, LCR parameters and current displayed page can be quickly saved to the internal FLASH. Users can save those data as CSV, XLS, GIF format so as to print, summarize, store and analyze.
Greatly improved performance: improved turn ration and stable low DCR test ability
Turn ratio test is a vital item in electronic transformer parameter test, but the wide turn ratio range and the weak electromagnetic coupling are the main obstacles to their accurate measurements. By a series of technologic improvements, such as 10Vrms test signal, unique sampling and composing methods for transformer primary and secondary signals, improved calculation method for turn ratio, the turn ratio test made by ST2829X can be faster, more accurate and reliable. ST2829X has a better test ability for low DCR, that is to say the tester can realize an accurate and stable measurement even when DCR is quite low. This ability ensures a reliable test for small-number and large-diameter coils.
Advanced file management function: bar-code management function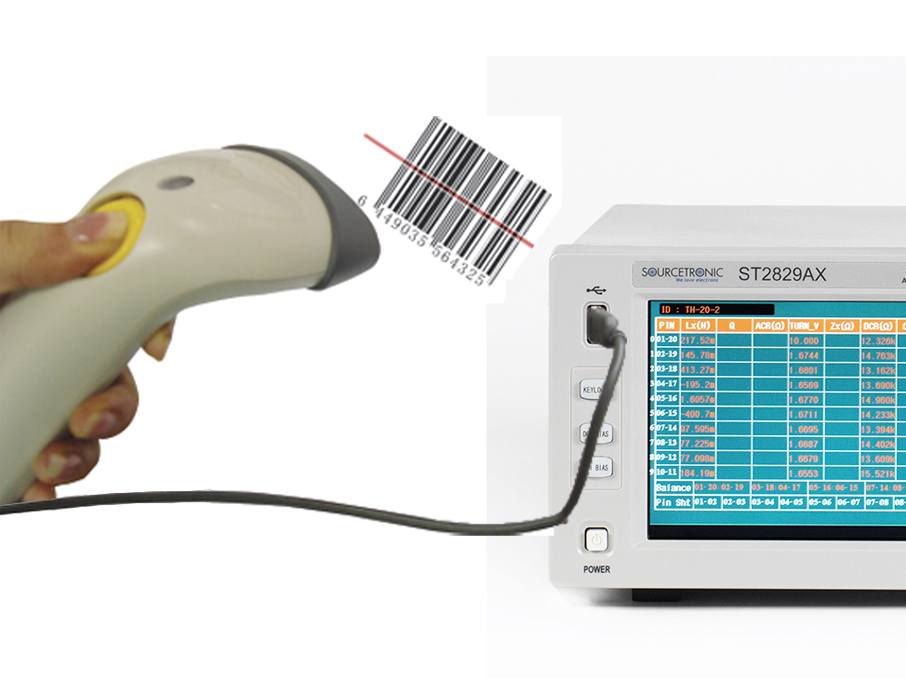 ST2829X can read the bar-code of DUT though USB HOST port. This function can set bar-codes for previous setting files or create a new file by scaning a bar-code to the tester. The corresponding test file will be easily found by reading the bar-code or manually inputting the barcode. Bar-code management function can improve your management abilities of products and files.
Creative network of tester: connect several testers through LAN-LXI interfaces to realize data transfer

.

10/100 Base-T LAN-LXI interface is a standard configuration for ST2829X. Through an HUB, several testers can be connected to a common PC from their LAN-LXI interfaces. With the networking software that Sourcetronic provides, users can build a networking and automatic transformer test system and further realize the networking control for several transformers. All setting files can be programmed on the PC and be sent to each tester. Users can view the test process of each tester on PC. In addition, test results can be uploaded to the PC through the network so as to make storage, statistic and analysis.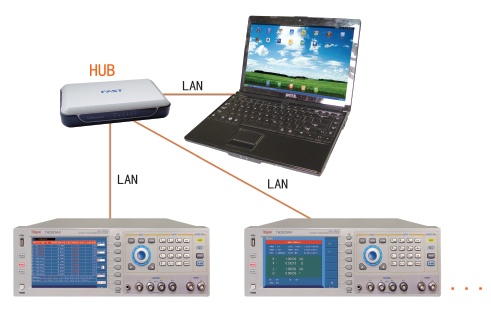 Strong searching function: several searching modes for setting files
ST2829X can store up to 200 setting files in the internal memory, so it is hard to search a particular file. For this point, ST2829X provides several file searching methods. When you input a key word, fuzzy search can find relative files. If you enter the accurate file name, accurate search can find the corresponding file. As stated above, barcode search can find the corresponding file when you manually input or scan a barcode.
Easy upgrade: compatible with file systems and test accessories of ST2818X/ ST2819X
Sourcetronic has marketed the automatic transformer test system for many years and ST2818X/ST2819X automatic transformer test system has gained a lot of trust and support from our customers. ST2829X is completely compatible with all test fixtures, test fixture jigs, control interfaces and setting files of ST2818X/ ST2819X. Scanning test fixtures, TH1901 and TH1805, can be directly used on ST2829X. You do not need to worry about the incompatibility problem of the old and the new testers.
Practical analysis function: built-in software provides several statistic analysis abilities
Cost reduction, technology advancement and PASS rate improvement are main ways for transformer manufacturers to increase profits and productivity. ST2829X offers you statistic analysis functions such as Cpk, Ck and Cp. Users can choose test results of several parameters (less than 5 parameters) to make analysis. By this method, analysis data can be quickly gained and used to improve products. Number of samples that can be used to make analysis is up to 9,999.
Fast fixture self-test: provide self-test function for scanning fixtures to ensure their reliable work
The working principle of transformer scanning fixtures is to apply an array of hundreds of relays to scan and switch different test pins and signals. For the long and frequent use of relays, their contact performance will decrease, which will further affect scanning test results. ST2829X can selftest the performance of scanning relays and find out failed relays, so users can make repairs in time and ensure that scanning fixtures work well all the time.
What's in the box
ST1901B Manual transformer scanning fixture
ST26005B 4-terminal test fixture
ST26011A 4-terminal Kelvin test clip leads
ST26004B 2-terminal test clip leads
ST26016 Transformer scanning control cable
ST1901-001 Foot switch
ST26010 Gilding short board
Factory calibration certificate
Technical data
Technical Specifications

Model
ST2829AX-24
24-Pin Transformer Scanning Test + LCR Test (Optional)
ST2829X provides a 10-hour function-experience for LCR test. The experience version will be automatically turned off after 10 hours of using. If you do need this function, please contact our salesmen or distributors and provide your detailed instrument serial number.
ST2829BX
ST2829CX
Basic accuracy
(See operation
manual)
LCRZ
0.05%
DCR,
Turn ratio
0.1%
Calibration
Warm-up time = 30 minutes, Environment temperature: 23±5ºC,
Signal voltage: 0.3Vrms – 1Vrms
Zeroing: After OPEN or SHORT Length of test cable: 0 m
Frequency of
test signal
ST2829AX-24
Range: 20Hz - 200kHz
Min. resolution: 0.5mHz
Accuracy: 0.01%
ST2829BX
Range: 20Hz - 500kHz
ST2829CX
Range: 20Hz - 1MHz
Output impedance of signal source
10Ω, 30 Ω, 50Ω, 100Ω(selectable), ±1% @1kHz
Level of AC test
signal
Normal level
5mV - 10Vrms
Min. resolution: 100µV,
accuracy: 10%xset
voltage+2mV
50µA - 100mArms
Min. resolution: 1µA
Constant level
10mV - 5Vrms
Min. resolution: 100µV,
accuracy: 10%x set
voltage+2mV
100µA - 50mArms
Min. resolution: 1µA
DC bias voltage
source
0V - ± 10V
Min. resolution: 0.5mV, accuracy: 1%x set voltage+5mV
0mA - ± 100mA
Min. resolution: 0.5µA
DC constant current source (optional)
(for diode P/N characteristic test)
0 - ± 120mA
Min. resolution: 0.5mV, accuracy: 1%x set voltage+5mV
DC bias current source
(optional, ST2901)
0 - ± 1A
Min. resolution: 0.5mA, accuracy: 1%x set voltage+2mA
Load open voltage: = 9 V
Transformer test parameters
Turn Ratio, Turns, Phase, L, C, Lk, Q, ACR, DCR, Balance, Pin Short, Diode P/N
LCR test parameters
|Z|, |Y|, C, L, X, B, R, G, D, Q, θ, DCR, Turn-Ratio,Phase, Lk
Display range of DCR
0.00001 Ω - 999.999 MΩ
Display range of turn ratio
1:0.001 - 1000:1
Display ranges of LCR parameters
|Z|, R, X
0.00001Ω - 99.9999MΩ
|Y|, G, B
0.00001µs - 99.9999s
C
0.00001pF - 9.99999F
L
0.00001µH - 99.9999kH
D
0.00001 - 9.99999
Q
0.00001 - 99999.9
θ (DEG)
-179.999º - 179.999º
θ(RAD)
-3.14159 - 3.14159
Δ %
-999.999% - 999.999%
Diode test
Positive voltage
0 - 9.9999 V
Negative current
0 - 99.999 mA
Measurement speed
(=10 kHz)
Fast: 75meas/ sec(13ms), Medium: 11meas/ sec (90ms), Slow: 2.7meas/ sec (370ms)
Equivalent circuit
Serial, Parallel
Range mode
Auto, Hold
Trigger mode
Internal, Manual, External, Bus
Average times
1 - 255
Calibration function
Open, Short, Load
Math operation
Direct reading, ΔABS, Δ%
Delay time
0 - 60.000s, 1ms resolution
Comparator
10-bin sorting, BIN1~BIN9, NG, AUX
Bin counter
PASS/FAIL on front panel, LED indication on scanning fixture
Memory
200 sets of LCRZ setting files
200 sets of setting files for transformer scanning
10 sets of GIF files
Interface
Control interface
HANDLER (optional) on rear panel
SCANNER(compatible with TH1901A/B, TH1805A/B transformer scanning fixtures)
Communication
interface
LAN-LXI, GPIB (optional), USB HOST, RS232C
Memory interface
USB HOST (USB memory or bar-code scanning)

General Specifications

Operating
environment
Temperature
0°C - 40°C,
Humidity
≤ 90%RH
Power supply
Voltage
99V-121V AC, 198V-242V AC
Frequency
47Hz - 63Hz
Consumption
Max. 80 VA
Dimension (W×H×D)
400mm×132mm×385mm
Weight
Approx. 13 kg