Digital Multimeter ST1952
Ordernr.
61233
EAN
4260254479694
---
Frequently Bought Together
---
Details
Technical Service
+49 421 277 9999
Overview
ST1952 5 1/2 digit multimeter is a multi-functional, cost-effective voltage/current/resistance/capacitance meter. It provides max. 120000 count, max. sampling rate 200 times/s, 0.012% DCV accuracy, etc., which is the optimal selection for users. TH1952 provides high brightness VFD dual-display, which can display ACV/DCV or DCI, ACV/ACI and frequency etc. simultaneously to improve the test efficiency and, clearer display. ST1952 is equipped with USB and RS232 interfaces, and also communication software is provided optionally for PC communication, data analysis, statistics, building system. ST1952 accepts SCPI command to be compatible with communication software. A Handler interface is provided to receive an external trigger signal and output sorting signals for production line.
Highlights
5 1/2 digit display with 120000 counts
High brightness vacuum fluorescent dual-display (VFD)
True-rms AC voltage and current test
Multiple mathematics operation function:
DCV/ACV/DCI/ACI/AC+DC/Ω/CAP/Temperature/Frequency/Diode/Continuity and dB/dBm
Other parameters in current test signal displayed in second display 
Max. ADC sampling rate can be 200 times/s
DCV test accuracy up to 0.012 % resolution up to 1 µV
Relative mode (REL) to eliminate remaining reading
Calibration without opening the case
Limit function(Limit), for fast sorting
Data statistics function Max/min, Max. value, Min. value, Average value and number of statistics
Standard USB interface, provide conventient system communication function
Standard Handler interface, provide external trigger and sorting signal for production line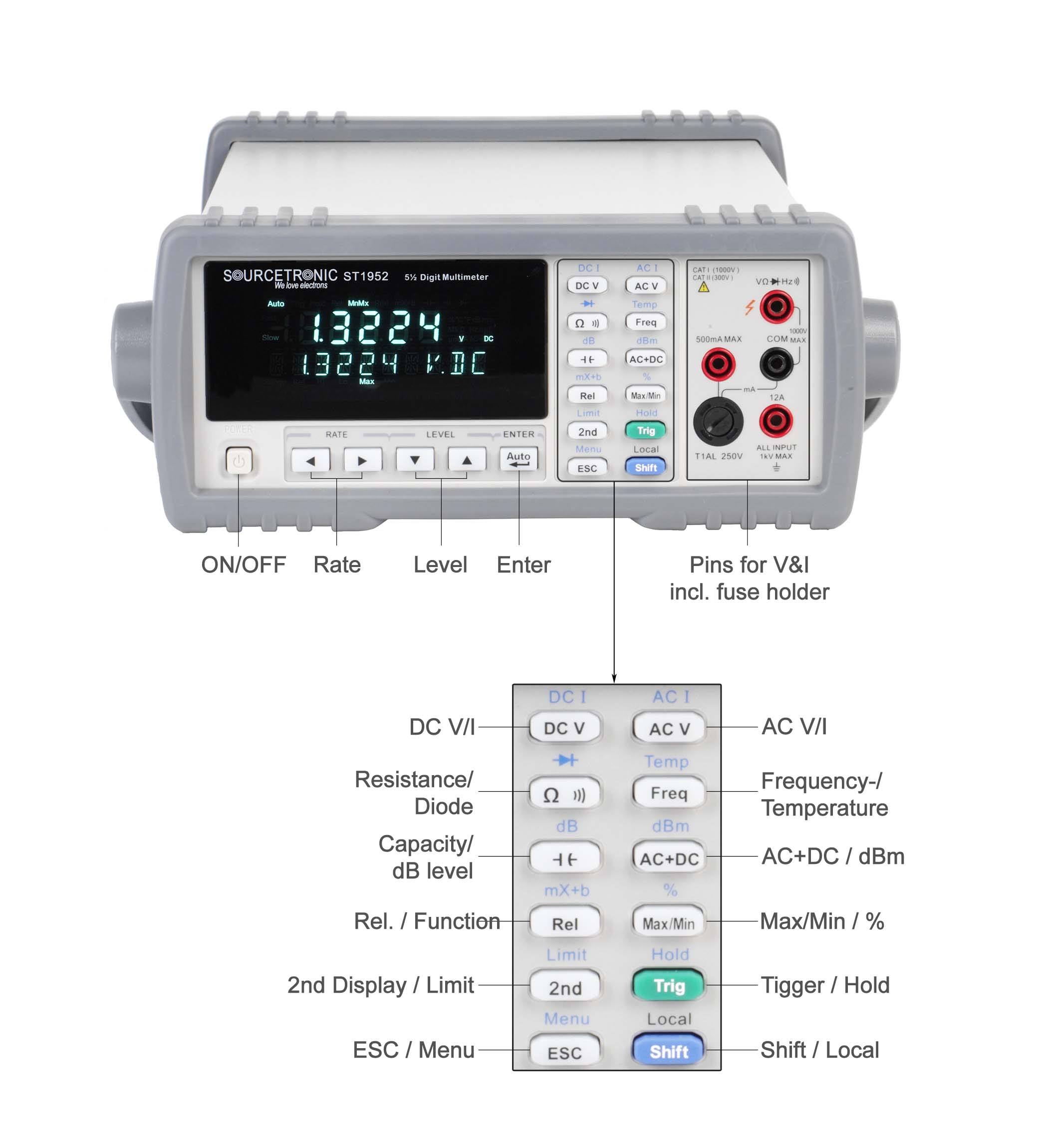 What's in the box
ST26036 test leads one pair (black and red)
Operation manual
Power cord
Factory calibration
Technical specification

Test parameter
DCV, ACV, DCI, ACI, DCR, CP, FREQ, CONT, DIODE, TEMP
Mathematics function
%, dB, dBm, REL, mX+ b
Range
Auto, Manual
Display
High brightness VFD dual-display
Triggger Mode
INT / BUS / EXIT
Reading Hold
To find out best stable reading for each data block of the given reading number according to the given accuracy
Limitation measurement
To judge HI, IN, LO and display, with ALARM for HI/LO
Calibration
Auto, Manual
External Trigger
Handler interface (external trigger and output sorting signals)
Communication interface
SCPI command support for RS232 and USB interface
Performance parameter expression of uncertainty: ± (% of reading +% of full scale)

Reading rate (reading/s)

Reading Rate
Fast
Slow
4 1/2
5 1/2
4 1/2
5 1/2
DCV/DCI
100
15
15
4
ACV/ACI
100
15
15
4
Ω
100
15
15
4

DC V

Range
Min. Resolution
Max. Uncertainty (1year)
100 mV - 1000 V
1 μV
0.02 % + 0.005 %

DC I

Range
Min. Resolution
Max. Uncertainty (1year)
1 mA - 100 mA
10 nA
0.05 % + 0.005 %
1 A
10 μA
0.10 % + 0.008 %
10 A
100 μA
0.20 % + 0.006 %

AC V

Range
Frequency
Min. Resolution
Max. Uncertainty (1year)
100 mV - 750 V
20 Hz - 50 Hz
1 μV
1.00 % + 0.10 %
50 Hz - 10 kHz
0.20 % + 0.08 %
10 kHz - 30 kHz
0.80 % + 0.08 %
30 kHz - 100 kHz
2.00 % + 0.20 %

AC I

Range
Frequency
Min. Resolution
Max. Uncertainty (1year)
1 mA - 10 A
20 Hz - 50 Hz
10 nA
1.00 % + 0.08 %
50 Hz - 2 kHz
0.50 % + 0.08 %
2 kHz - 10 kHz
2.00 % + 0.18 %

Resistance

Range
Min. Resolution
Max. Uncertainty (1year)
100 Ω - 1 MΩ
10 μΩ
0.05 % + 0.008 %
10 MΩ
100 Ω
0.20 % + 0.008 %
100 MΩ
1 kΩ
2.00 % + 0.005 %

Capacitance

Range
Min. Resolution
Max. Uncertainty (1year)
1 nF
1 pF
2.00 % + 0.8 %
10 nF - 1000 uF
10 pF
1.00 % + 0.5 %
10000 uF
1 uF
2.00 % + 0.5 %

Frequency

Range
Voltage Sensivity
Min. Resolution
Max. Uncertainty (1year)
1 Hz - 1 MHz
40 mV rms
10 μHz
0.005 % + 0.003 %

Temperature

Range
Probe type
Min. Resolution
Max. Uncertainty (1year)
- 10 °C - 100 °C
PT 500
0.1°C
Probe accuracy ±0.2 °C
Uncertainty is not assured if the temperature is our of range