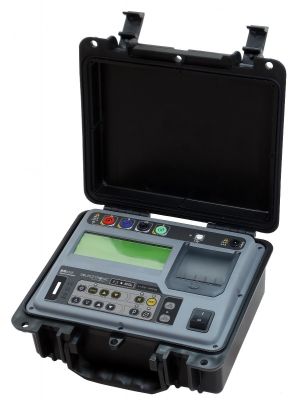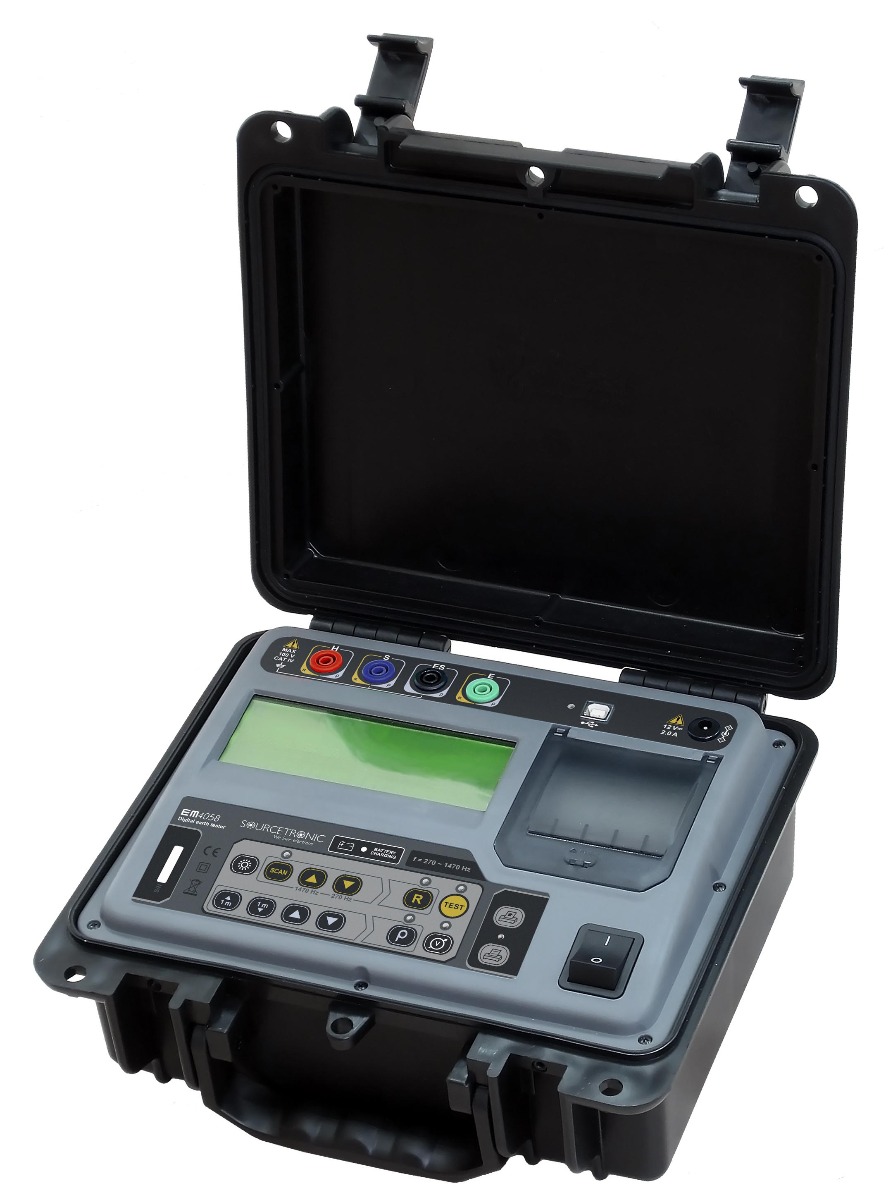 Digital earth tester EM-4058
Merce atteso a breve
Dettagli
Servizio tecnico +49 421 277 9999
Descrizione
Info sui prodotti "Digital earth tester EM-4058"
The instrument has four ranges that are automatically selected, covering measurements from 0.01 Ω up to 20 kΩ, which allows to obtain very accurate measurements for any kind of soils. During ground resistivity measurement, the operator may indicate the distance between spikes in order for the equipment to apply Wenner's formula and to show the resistivity value irectly.
Earth resistance tester EM-4058 has a built-in memory to store measurements and a built-in printer, besides the USB interface that allows to communicate measured values to a computer or data logger for their later analysis and has a remote interface that allows remote control of it through an Android device. It is a portable, strong and lightweight equipment, suitable to be used out in the field and under severe weather conditions. It is powered by a rechargeable battery and it is supplied with all the necessary accessories for measurements (test spikes, leads, etc) within an auxiliary case that makes it simple to carry.
Highlights
Earth resistance measurement up to 20kΩ
Built-in voltmeter
High accuracy and resolution
Immunity to spurious voltage interference
USB Data output
Technical data
Operating frequency: 

270 Hz (resistance or resistivity measurement)
570 Hz, 870 Hz, 1170 Hz or 1470 Hz (resistance measurement)
Max. variation: ± 1 Hz (both cases).

Accuracy:

Resistance and Resistivity measurements:
R ≤ 2 kΩ: ± (2% of the measured value ± 2 digits).
R > 2 kΩ: ± (5% of the measured value ± 2 digits).

Voltage measurement:
± (3% of the measured value ± 2 digits).

Reading resolution:

0.01Ω in the resistance measurement;
0,01Ωm in the resistivity measurement;
0.1V in the voltage measurement.

Output current: The short-circuit current is limited to less than 20.0 mARMS (according the IEC 61557-5 - 4.5).
Immunity to spurious voltages up to 7V
Data Output: USB
Built-in Printer
Power supply: Internal rechargeable LFP battery (LiFePO4 12 V - 3000 mAh).
Battery charger: 220 - 240V, 50Hz
Safety class: IEC 61010-1
E.M.C.: IEC 61326-1
Electrostatic immunity: IEC 61000-4-2
Electromagnetic irradiation immunity: 61000-4-3
Operating temperature: -10°C to +50°C
Storage temperature: -25°C to +65°C
Humidity: 95% RH (non-condensing)
Weight: 3kg without accessories
Dimensions (W/H/D): 274/250/124mm
Environmental protection: IP54 with closed lid
Measurement ranges
Resistance: 0-20 Ω; 0-200 Ω; 0-2000 Ω y 0-20 kΩ (auto ranging).
Resistivity: 0 - 50kΩm (auto-ranging)
Voltage: 0 - 60V
What's in the box
1 x 40 meters cable
2 x 20 meters cable
1 x 5 meters cable
1 x 5 meters cable to connect to the grounding system to be measured
4 x Steel rods
Charger power supply cable
USB cable
Canvas bag
User manual
Factory calibration certificate