New theatre in Bremen with inverters from Sourcetronic
Written on
28.03.2014
by
Jens Röhrßen
Sourcetronic support not only companies in the industry and business, but also public institutions, such as the resumption of the Bremer Shakespeare Company's performances. The Bremer Shakespeare Company's return to the theatre comes after a major refurbishment and a rebuild time of about 16 months. As well as a new fly tower, the theatre's facilities were updated and extensively overhauled. The total cost of converting the old school hall was about 4.2 million euros; the conversion was paid for using money donated by the city and state of Bremen.
The opening night of the first play took place on Friday the 1st of March, launching the reopening. With the three-hour drama "Richard III", the Leibnizplatz theatre is coming back to life: the re-launch continues the Bremer Shakespeare Company's success story.
Control panel with frequency inverter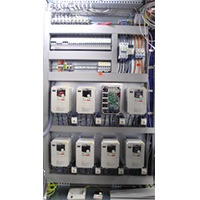 Alongside the newly-constructed walk-in lighting bridges, a movable portal bridge was built for the theatre. Moving hoistable props and tools are located on the stage floor. Drive technology is necessary in order for all the stage craft paraphernalia on the stage to function properly; the drives and drive systems for the props and the movig stage floor are controlled by Sourcetronic frequency inverters. Individually selected for each task, the frequency inverters have been adjusted optimally for each piece of stage equipment. Thus, low energy consumption and minimal environmental impact are ensured. This is an important element of Sourcetronic's company philosophy.
Furthermore, all electrical and technical equipment has been updated and adapted according to current health and safety requirements. This is very often necessary, especially in older buildings like the Leibnizplatz theatre. These improvements to the facility's safety systems and stage equipment help safeguard the security of employees and visitors, avoiding unnecessary injuries. With all these innovations, the Bremen Theatre is very well placed for the future.