Multimeters are highly accurate electrotechnical measurement instruments. Digital multimeters, such as the Handheld Multimeters, are used in many different fields of electronics and electrical engineering such as schools, universities and colleges, as well as in crafts. A multimeter is a device for measuring different (therefore the term "multi") electrical parameters. Depending on the construction and functional scope, multimeters are built for measuring DC voltages and currents, alternating voltages and currents, frequencies, capacitances, resistances or temperatures. In addition, the proper functioning of transistors, diodes, or the electrical continuity can also be tested with the device.
Comfortable digital multimeter
In contrast to the mobile multimeter, the Desktop Multimeter is designed for stationary use in a laboratory or workshop workplace. The typical dimension of a table device is about 25 cm wide, about 30 cm deep and has a height of about 10 cm. In most cases, the table multimeter has a small raised stand at the front. They can be positioned easily on the laboratory table. Using the integrated USB 2.0 interface, the measured data can be recorded and processed in a simple way at maximum speed. The ST1952 precision multimeter scores with a high accuracy of 0.012%.
Multimeter with bluetooth function
A special feature of the Bluetooth Multimeter is, as the name suggests, an integrated Bluetooth module. This allows a compatible connection with the smartphone. The measuring device offers a 3-in-1 configuration with multimeter, data logger and temperature measuring functions and a voice warning. A highly accurate 3 5/6 digit display makes it easy to read highly accurate measurement values.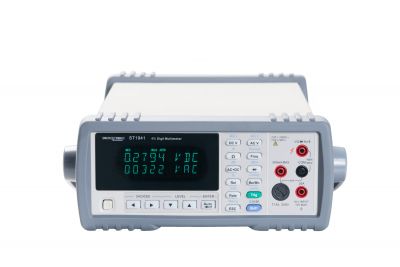 Digital Multimeter ST1941
4 1/2 digit display with 21.000-counts
750 V AC / 1000 V DC
Test accuracy up to 0.02% (DCV)

Bandwidth up to 100kHz
Multiple mathematics operation function: %, dB, dBm, REL
Interfaces: RS232 (SCPI supported)