Sourcetronic at Productronica 2019
Written on
19.12.2019
by
Aike
This year Productronica took place again in Munich from November 12, 2019 to November 15, 2019. Sourcetronic was present with a new booth and three customer advisors and informed the visitors about the different areas of measurement technology, drive technology and software. Especially the new multimeter ST1963 or the new LCR-Tweezer ST2822M, which were exhibited among many other measuring instruments at the fair, were presented.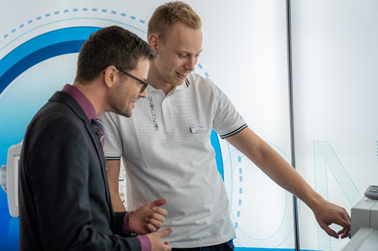 The Productronica 2019
Productronica was very well attended this year with more than 44,000 visitors from 96 countries. In addition, more than 1,500 exhibitors from 44 countries presented the latest products and innovations in electrical engineering. Every year, the trade fair in Munich, alternating with Electronica, is one of the most important meeting places for the electronics industry.
Presentation of new products
This year Sourcetronic presented some new devices in hall A1, such as the ST1963 multimeter. Furthermore, the new LCR-Tweezer ST2822M was presented, which convinced the visitors with its handiness.
In addition, the new convenient LCR-Meter software ST®Meter 4.0 was introduced, which allows a graphical live display of the measured values and allows remote control of the LCR measuring instruments via a laptop, for example.
In addition, the experts provided general advice to interested parties on the main topics of measurement technology, drive technology and software.
The new Sourcetronic LED exhibition stand
For the electronics fair in Munich, Sourcetronic travelled specially with a new exhibition stand to give the visitors, interested parties and customers a professional first impression. The stand is equipped with LED walls, a large screen and a large cube with Sourcetronic printing hanging from the ceiling.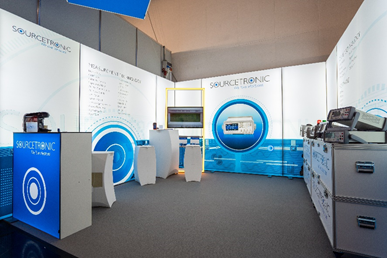 Sourcetronic wants to be present at many other trade fairs in Germany and abroad in the future so that you, as a customer or interested party, have the opportunity to find a first-class solution for your technical problem directly on site. Next year Sourcetronic will definitely exhibit at the electronica 2020 trade fair in Munich. Here you will find further information about the advantages of the services such as calibration and Software development, as well as the various devices such as LCR meters, multimeters or frequency converters.