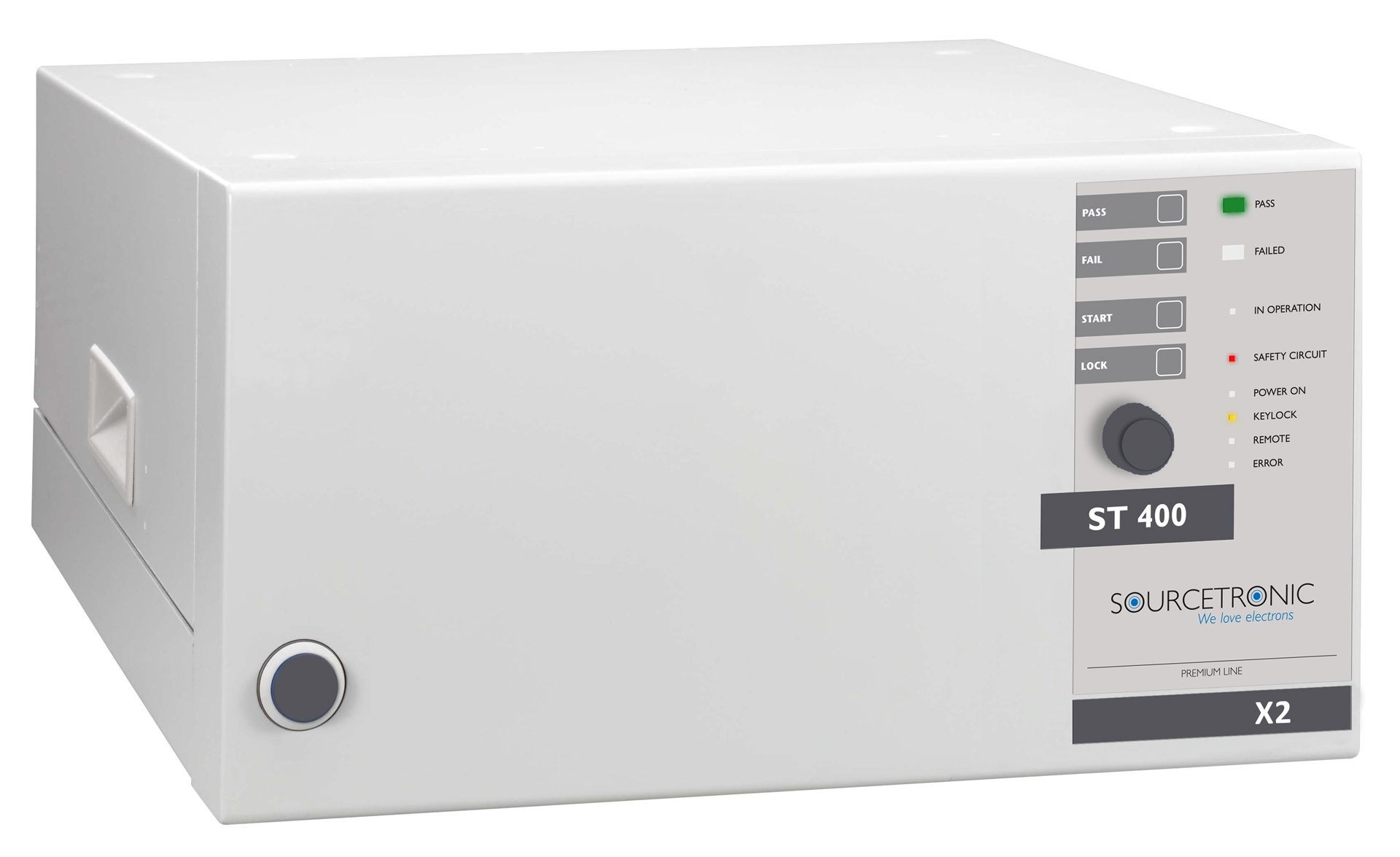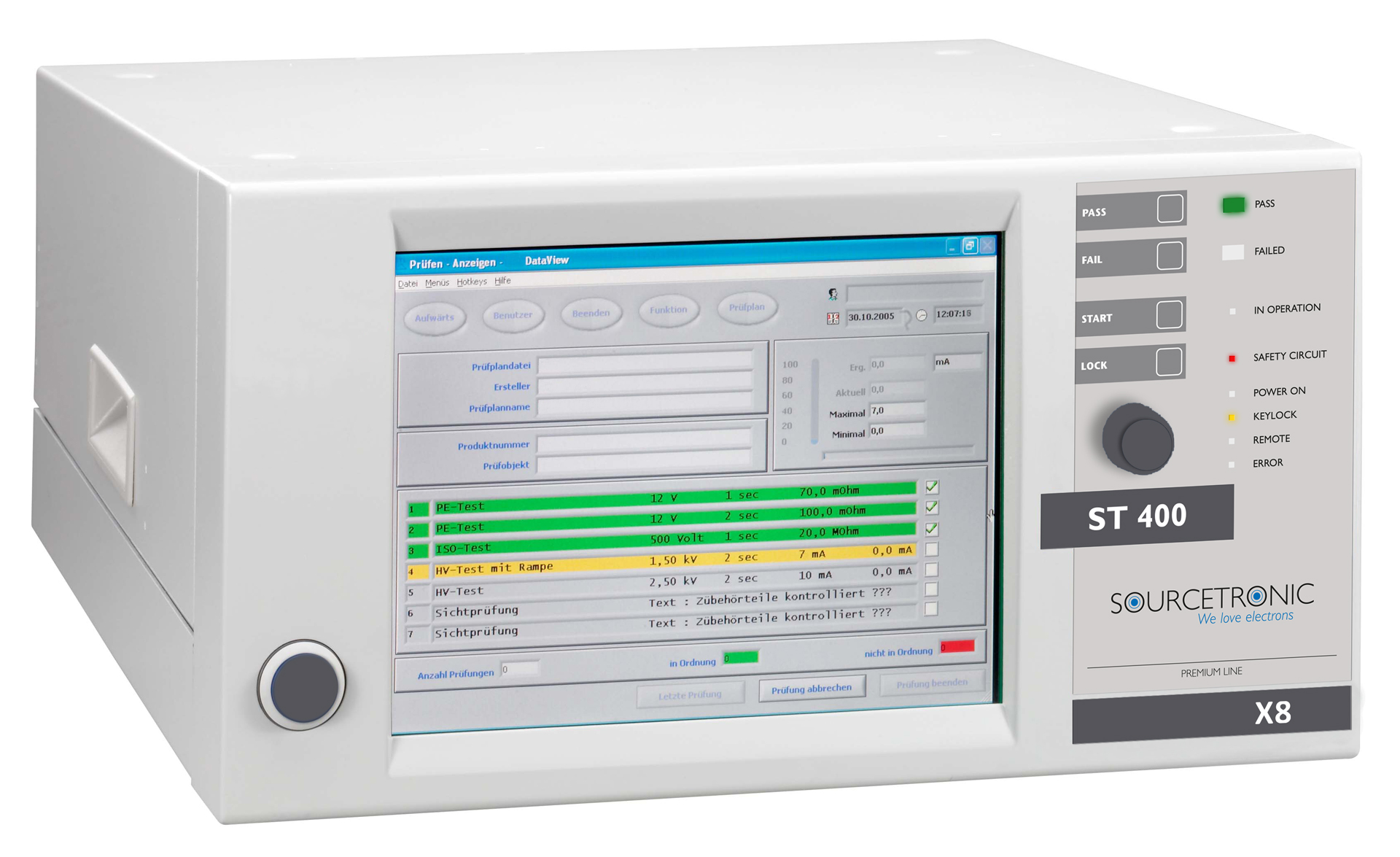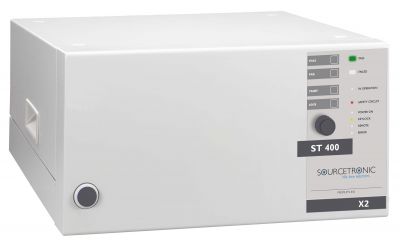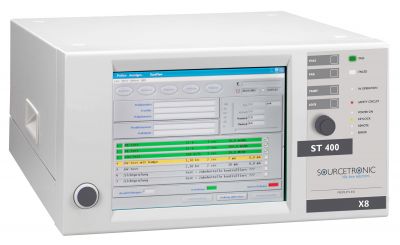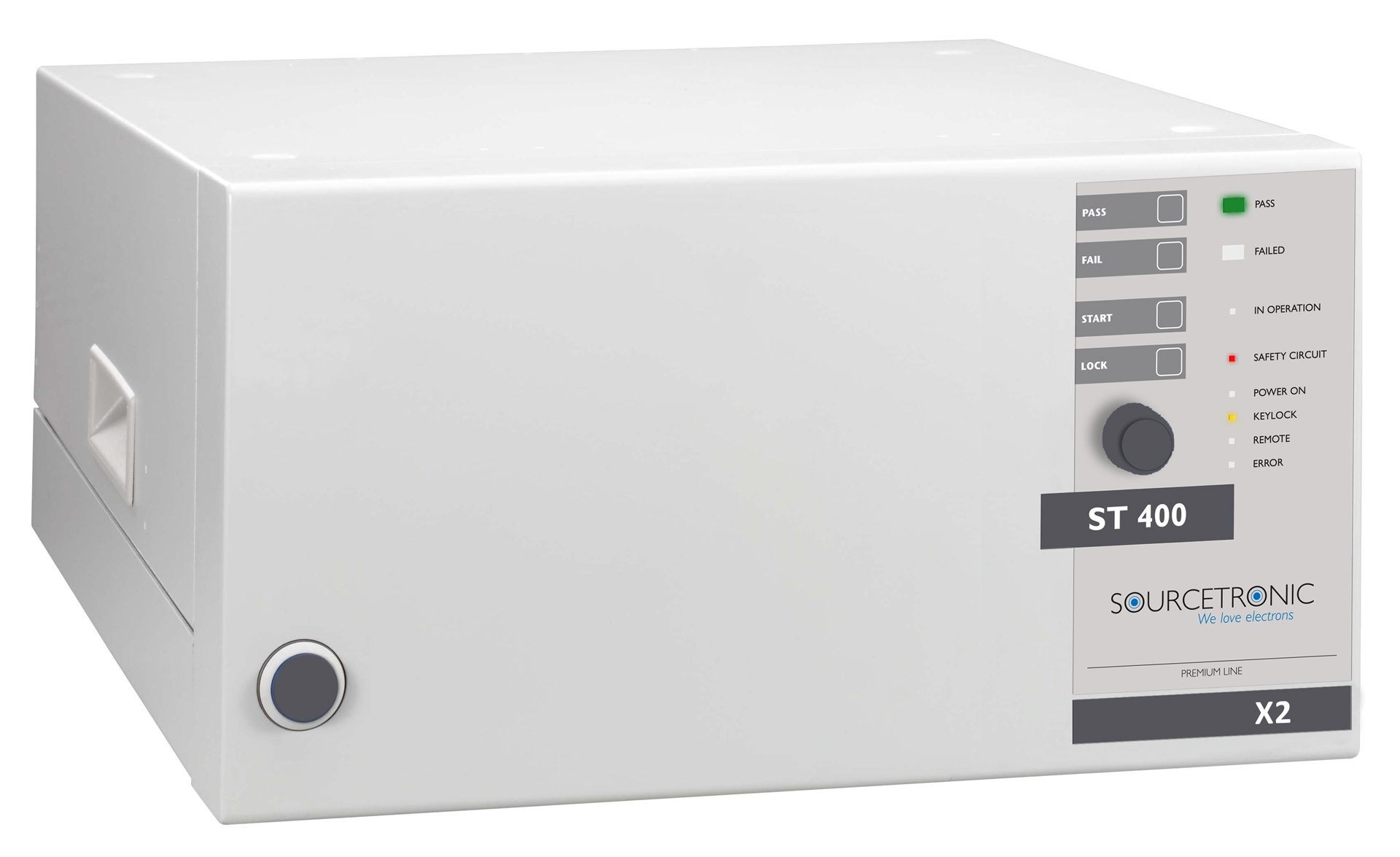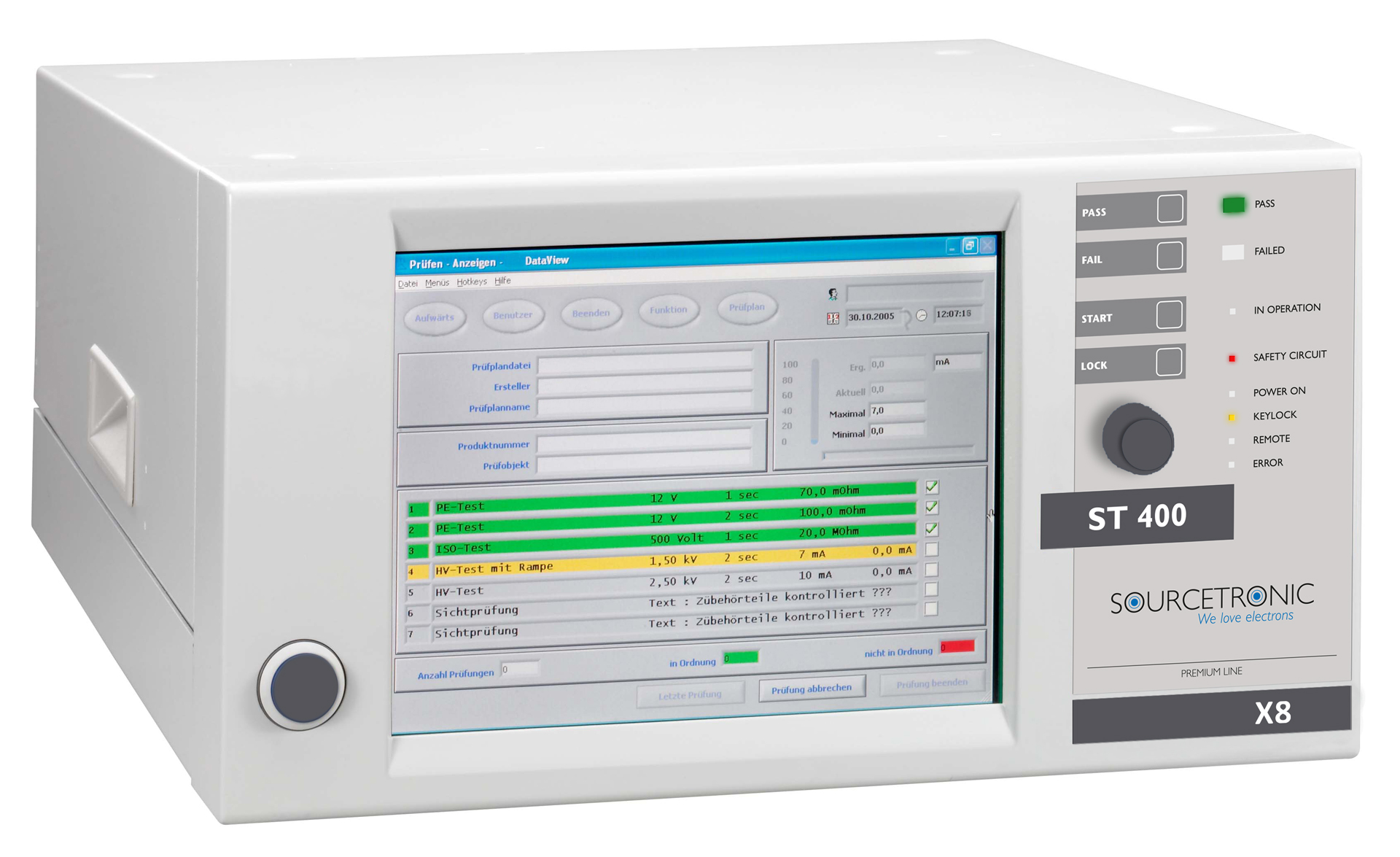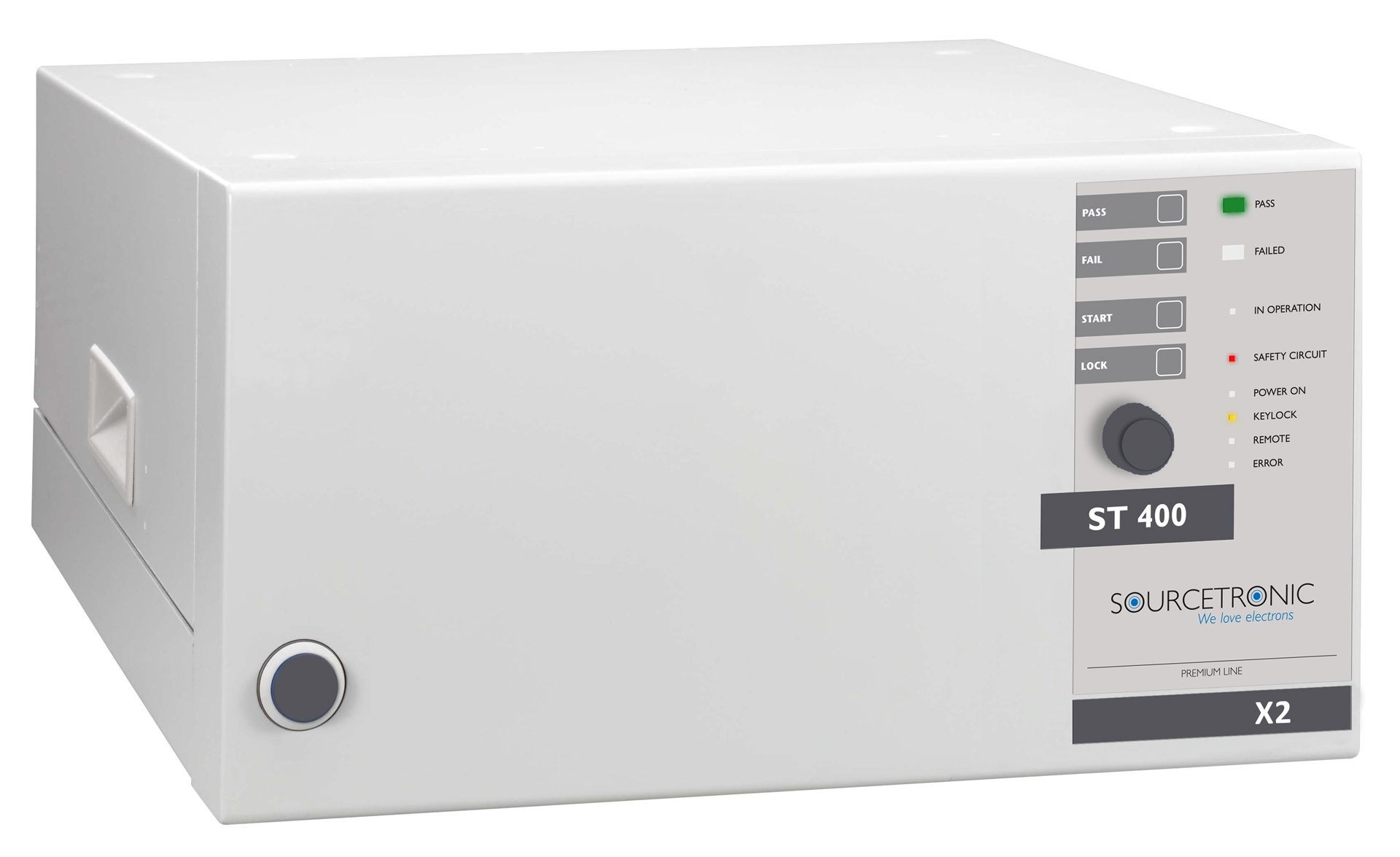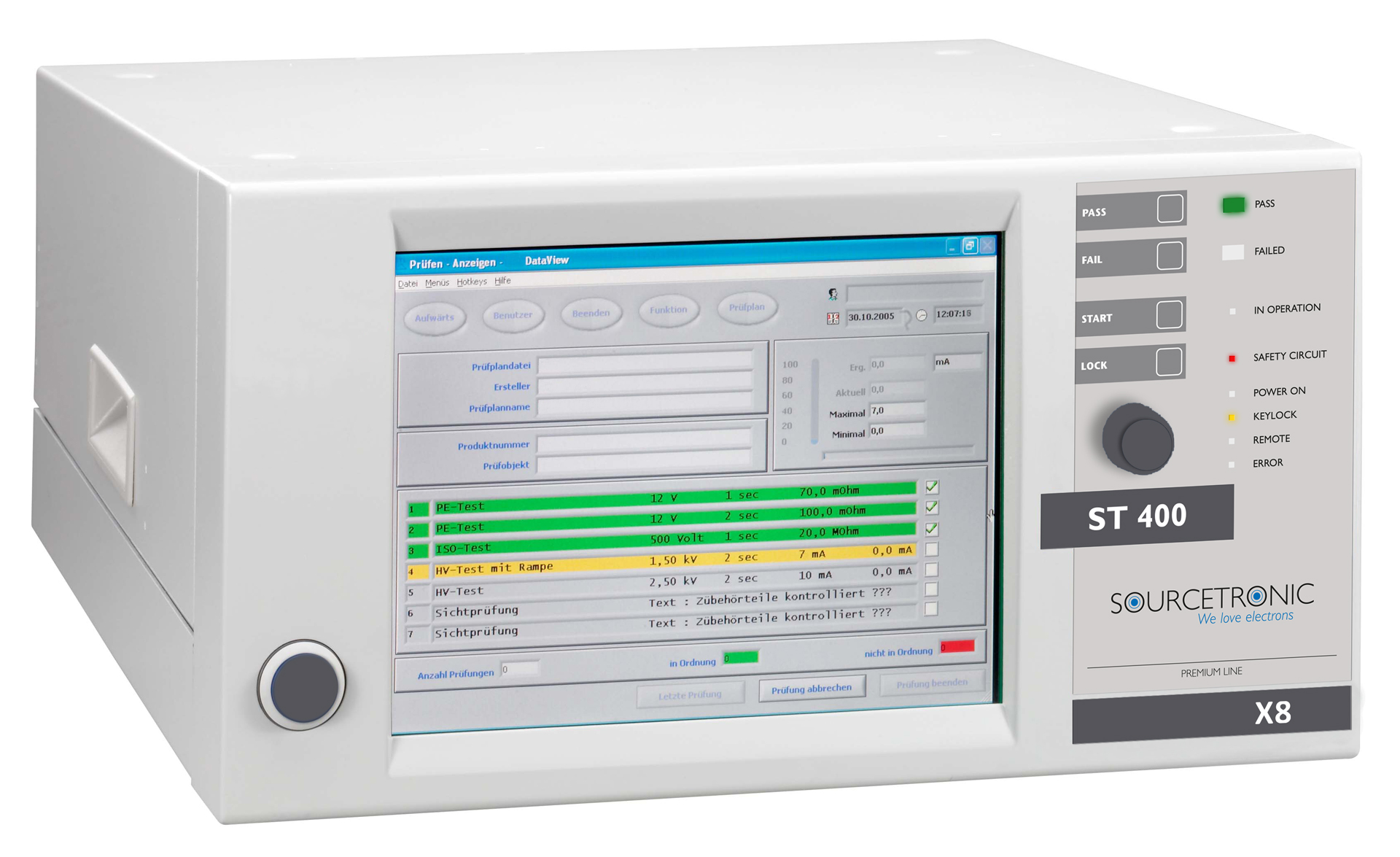 Luminaire Tester ST400-LG-ACX
Número de producto:
61003
Only %sourcetronicStockShowCount% left in stock
Detalles
Asesoramiento Especializado +49 421 277 9999
Descripción
Información sobre el producto "Luminaire Tester ST400-LG-ACX"
The Luminaire Tester ST 400-LG-ACX is designed on standard tests according to VDE, EN and ISO conduct for all kinds of lamps and bulbs. To perform tests in accordance with the luminaire standard EN 60598-1-which Luminaire has all the necessary test modules for these standard test. These modules include a 5kV AC high voltage test with a short circuit current of> 200mA, an insulation test up to 500V DC, a ground bound test with 25A AC, a continuity test and an adjustable source of 0-270V AC / 45 - 65Hz for functional testing of lamps with a current consumption with up to 10A.
The test procedure can be carried out fully automatically and thus guarantees a rapid test procedure in production. Both test plans and results files can be stored on a USB flash drive or on a server on the network. If the network connection is interrupted to the server, the ST400 saves the resulting files locally, as long as has been restored to the connection to the server. After that, all locally stored data is transmitted to the server.
For quick adaptation of the test samples contacting units with socket outlets, test leads with 4 mm laboratory plug or open-ended, or test pistols can be delivered.
Highlights
Automatic Luminaire Tester
Test parameter: HVAC, ISO, PE, Continuity, 0-270V Function
Comfortable 5.7" TFT-Industrial-Touch-Screen
Manual operation with test plan editor, remote control
via PC and batch tests
Contact and test lead monitoring
"4-Terminal-Sensing" protective earth test
Test probe with result LED
Perfected periphery equipment for PLC, RS232, driver,
printer or customer specific extensions
Norms: EN60065 / VDE 0860, EN 60598 /
VDE 0710, EN60335 / VDE 0686 / EN 50106,
EN60601 / VDE 0750, EN 60950 / VDE 0805 etc.
Optional: DLL, Active-X, LabView driver, USB, LAN
Test Modules
HV-Module HVA5-100:

High voltage test AC
Test voltage 100 - 5000 VAC, potential free
Trip current 0.1 - 100 mA
Frequency 45 - 65 Hz
Transformer power 500 VA, short circuit current > 200 mA
Electronically regulated, incl. ramp function and active discharge
Test voltage switched on at zero crossing of voltage

ISO-Module DC10-CL:

DC Insulation resistance test
Test voltage 50 - 1000VDC
Resistance measurement 0 - 400 MOhm
Electronically regulated, incl. ramp function and active discharge
Current limited as detailed in EN 50 191

PE-Module AC25:

Protective earth test PE
Test current 2 - 25A AC
Resistance limit 1 - 500mΩ
Switchable to test as detailed in EN 60 204
Test voltage < 6 V and < 12 V
Electronically regulated
4-Wire-Technology
Test probe with GOOD-NOT GOOD-LED

R-Modul DG1:

Short Circuit and Open Loop test
Test voltage 0 - 25VAC
Resistance limit 0 - 100Ω
Electronically regulated, incl. ramp function and active discharge

FCT-Module ACX1-5:

Source for the supply of the 1-phase test object with 10 - 270 V with the Function test
Test voltage adjustable from 10 - 270 V AC / 45 - 65 Hz
Continuous voltage regulation, electronic source
Power 500 VA
Short circuit test
Isolating transformer, potential free

FCT Modul CM1-10:

Current Consumption test module up to 10 A / 1-phase
Measurement of current and voltage
Technical specifications
X4 user interface incl. Windows CE
All limits freely adjustable
Multi-function-dial-switch "Navigation Plus"
Buttons: PASS, FAIL, START, LOCK
Main switch: "Illuminated LED"
Signal LEDs: PASSED, FAILED, IN OPERATION, SAFETY CIRCUIT,
POWER ON, KEYLOCK, REMOTE, ERROR
"Power-ON" selftest
Interfaces back side:
SPS (24V/2A), RS-232, CAN-1 (System upgrades, e.g. relay matrix)
Connectors back side:
2 x HVS06C HV connectors
2 x PE connector (incl. result LED)
1 x safety circuit
1 x WK400 warning lamp connector
1 x redundant earth
Error report: acoustical, optical and via interface
User management for test plans and settings
Auto start function
Internal clock and calendar
Test time adjustable from 0,1 s - 99 min, endless
19" design-casing: metal, light grey, RAL 7035
Dimensions(WxHxD): 410 x 210 x 435mm
Power supply: 230V, 50Hz/60Hz
Weight: 18-35 kg (depends on modules)
Safety norm in accordance to EN 50 191
What's in the box
Supply cable
Manual
Factory calibration